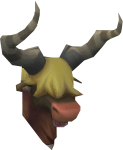 Benedict Encumberyak is a sight-seeing yak who can be found in Varrock, in a building north west of the Varrock lodestone. Players can speak to him to obtain a Scrapbook and begin the Benedict's World Tour miniquest, during which players can see the benefits of NXT. Following the mini-event will reward players with some small and large XP lamps.
To complete the tour, players have to follow a scrapbook of clues which will lead them to stand in specific locations and collect objects. Players will have to be using the NXT client to take part in the tour. A loot beam will shine over each item.
Transcript
Edit
Ad blocker interference detected!
Wikia is a free-to-use site that makes money from advertising. We have a modified experience for viewers using ad blockers

Wikia is not accessible if you've made further modifications. Remove the custom ad blocker rule(s) and the page will load as expected.