Behemoth
Discuss

0
22,529pages
on this wiki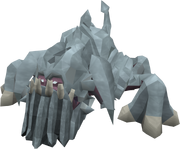 Behemoths are a race of large, powerful creatures. They can attack with all three styles of the Combat triangle and can have special defences, for example the Bulwark beast's armour. All of the behemoths were summoned from another plane by Bilrach during his experiments with portal magic. Therefore, they are aligned to Zamorak. Also, all behemoths seem to have high accuracy and strength, while having quite low defences. There are currently only five species known: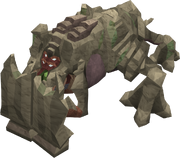 All of them reside in the tunnels of Daemonheim, constructed by the Mahjarrat Bilrach as bosses at the ends of floors. Stomp, however, is too big to fit through the portal, which is why only his head can be fought. All of the behemoths are capable of a powerful stomp attack that they will use if someone attempts to walk underneath them. All the behemoths are immune to poison.
This is the lowest level behemoth. It lives on Daemonheim's uppermost Frozen floors. It is presumed to be a good hunter, as it catches Mastices and eats them to heal himself when damaged.
One way to destroy this behemoth is to get in the way between the behemoth and the carcass when fighting, that will keep it from regenerating its health.
Bulwark beasts are slightly bigger than the Gluttonous behemoths. They have very strong armour plating that needs to be destroyed with a pickaxe before any damage can be dealt. Oddly enough, the armour does not protect the beast against Magic attacks or attacks from Gorajo.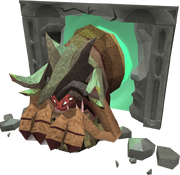 Stomp is by far the biggest behemoth, as he cannot even fit through the portal leading to his room. Stomp can heal himself without the use of food, but can be killed by deactivating the portal with special crystal lodestones right next to his head in the boss room. He has a very powerful attack in which he causes the part of the ceiling to collapse, making rocks fall on anyone fighting him. He can also make himself invincible. You then have an opportunity to weaken the portal. Failure to do so causes Stomp to restore his lifepoints.
This section is a stub. Please help expand it.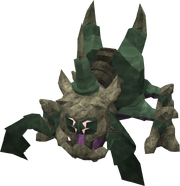 This behemoth was released on 19 August 2010. It has the ability to use all three protection prayers at once, which can be temporarily deactivated by crystals in the room. They, however, need to reload 400% of the time that the prayer is deactivated, making it heavily advisable to take more than one combat style. While all three crystals are active this Behemoth is effectively invulnerable and can unleash a powerful special attack that causes very heavy damage to every player in the room.
Hope Devourer
Edit
This section is a stub. Please help expand it.
The Hope Devourer is a dark behemoth from the warped floors of Daemonheim. It is the monster that scared Marmaros the rewards trader. It has the ability to feed himself on players' protection prayers, making itself stronger. It doesn't know any magic, instead it opts for brute force with powerful melee attacks and a headbutt which knocks players backwards. A long roar indicates it is preparing to vacuum up your calls for aid. This is when you should deactivate protection prayers.