The Beckon emote is unlocked upon completing the Tutorial. Every player can use it.
If a member has done the Tower of Life quest, the player can either wear a piece of the Builder's costume or wield a satchel to enhance the emote. Only one piece of the Builder's costume is needed to enhance the emote. The enhanced emote consists of a player inhaling a deep breath, whistling, and beckoning with an arm motion.
The regular version does not have sound, but the enhanced version does.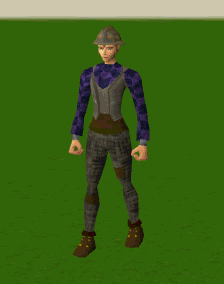 Holiday and seasonal events
Quests(m) and Achievements

Explore

Goblin Bow
(m)

Goblin Salute
(m)

Troubadour Dance
(m)

Cape
(m)
Air Guitar
(m)

Taskmaster
(m)

Demonic Rock Off
(m)

Pulled Away
(m)

Hefin Lotus
(m)

Hefin Bow
(m)

Hefin Ward
(m)

Hefin Crane
(m)
Emotes or categories marked with an (m) are members-only emotes but can also be used on free worlds if previously unlocked.
Ad blocker interference detected!
Wikia is a free-to-use site that makes money from advertising. We have a modified experience for viewers using ad blockers

Wikia is not accessible if you've made further modifications. Remove the custom ad blocker rule(s) and the page will load as expected.