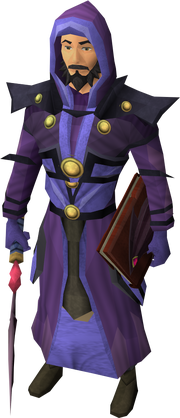 Batwing robes are magical robes requiring 50 Defence to wear. The requirements also include completing the quest Dragon Slayer. The Bat wand and Bat book require 50 Magic to equip. The robes are made from batwing, which is an uncommon drop from bats (giant bats, bats, albino bats, and warped bats). The equipment set can be crafted by members with a needle and some thread. In total a player will need 17 batwings and a Crafting level of 61 in order to create a full set (with the choice of book or shield).
These robes can be traded and equipped by all players but created only by members, since their raw material, Batwing, can only be obtained on a members world.
The shield's examine text is a reference to Batman, the Dark Knight. The Book's examine information is a possible reference to the Riddler, an enemy of Batman.

During the Evolution of Combat beta, the hood, legs and boots of this set had different examine texts, all of which were references to Batman.

This robe set was controversial when it was added to the combat beta due to how much of the female avatar's chest was visible.