A Battlestaff is a members-only staff which boosts Magic. It requires 30 Magic to wield. Mostly, though, it is useful in making elemental battlestaves. By using the appropriate (earth, water, fire, air) charge orb spell on an Obelisk with an unpowered orb in your inventory, you can make an elemental orb, which you can then attach to the top of the battlestaff. Then, you can take it to Thormac (if you've done Scorpion Catcher) to make a mystic staff for 40,000 coins. Visually the battlestaff is identical to the staff and the dramen staff, although the battlestaff holds better stats. If combined with orb of Armadyl, it can be made into an armadyl battlestaff (must have completed Ritual of the Mahjarrat and have 77 Crafting).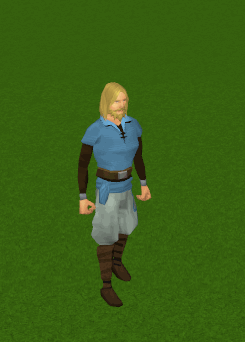 Combat Stats
Skill requirements
30
Class
Slot
Magic
Weapons
Main
Off
Damage
-
-
Accuracy
454
-
Style
Spell-casting
Attributes
Armour
0
Life points
0
Prayer
0
Strength bonuses

0

0

0

Attack speed
Average

Interval: 3.6 seconds

[view] • [talk]
Obtaining battlestaves
Edit
By purchase
Edit
* The amount a player can purchase depends on how much progress has been made in the Varrock Tasks, and they will be noted:
Battlestaves can also be purchased from the Rewards Guardian in the Mage Training Arena with Pizazz points. It has a stock of 100 battlestaves and costs 1 telekinetic point, 2 alchemist points, 20 enchantment points, and 1 graveyard point.
During the sixth Winter Weekend of 2015 (running into 2016), all battlestaff shops' stocks doubled, including the Rewards Guardian. However, Haf's stock went only from 16 to 31. it is unknown if this is a glitch or not.
From drops
Edit
Crafting Battlestaves
Edit
Dropping monsters
Edit
Disassembly
Edit