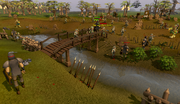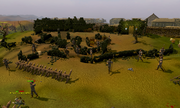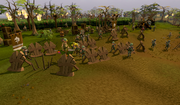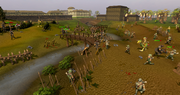 The Battlefield (also known as the Battlefield of Khazard) is located south of West Ardougne, and north of Tree Gnome Village.
The Battlefield is separated by a small river (with three bridges), with the Gnomes on the south side (by Tree Gnome Village), and the Khazard troopers on the north side. This area plays a large role in Tree Gnome Village quest. The gnomes and troopers are often seen to be engaged in battles with each other. Players are free to support either side in the battle.
To the north is a passageway by the southern edge of West Ardougne. Up the passageway is the Khazard warlord (level 56).
Personalities
Edit
Wars
Battles

| | |
| --- | --- |
| Misthalin | |
| Asgarnia | |
| Kandarin and the Fremennik Province | |
| Morytania and the pirate islands | |
| Forinthry and the Wilderness | |
| Kharidian Desert | |
| Tirannwn | |
| Elsewhere | |
Ad blocker interference detected!
Wikia is a free-to-use site that makes money from advertising. We have a modified experience for viewers using ad blockers

Wikia is not accessible if you've made further modifications. Remove the custom ad blocker rule(s) and the page will load as expected.