Battle-mage armour
Discuss

2
26,593pages on
this wiki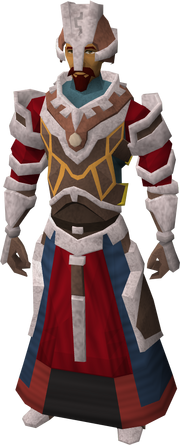 Battle-mage armour is a hybrid armour set, released on 23 August 2011, and requires level 85 Magic, level 85 Strength and level 85 Defence to wear. It is an untradeable set of armour obtained by playing minigames, and outside of minigames is purely cosmetic. Inside the Castle Wars, Soul Wars, Fist of Guthix, and TzHaar Fight Pits minigames, the armour gives good bonuses to magic defence and melee defence (equivalent to the Tetsu armour and the Sea singer's robes, with low range defence).
When all five parts of the set are worn, it gives a 15% damage bonus to all attacks on other players.
The complete set may be placed in the Armour case in the Costume room of a player-owned house.
Battle-mage armour is obtained by playing the following minigames for each part:
Components and Bonuses
Edit