Barker toad
Discuss

9
22,516pages
on this wiki
Barker toad
Level
66
Duration (

min

)
8
Points cost
7
Race
Toad
Abilities
Right-click Cannon - must be 'loaded' with a cannonball
Special moves
Toad Bark
Combat level
112
Examine text
The only creature with a mouth big enough to hold a cannonball.

Combat stats
Life Points
Max hit
3300
126 (180 with special)
Attack
Defence
Ranged
Magic
55
55
55
55
Immune to poison?
Yes
Attack Style
Melee (Strength)
[view] • [talk]

The Barker toad is a familiar players can summon with 66 summoning. It requires a Barker toad pouch to summon.
It has is a special right-click ability, Cannon, that causes it to instantly attack its opponent with ranged, if the familiar has been loaded with a Cannonball. (If not loaded, the right-click ability cannot be used.) This ability drains Summoning points each time it is used. Also, strangely enough, this attack can "splash" on NPC's, giving the impression it is in fact magic based, though horribly inaccurate as it seems to 'splash' often, even on low level NPCs.
Despite requiring level 66 summoning to use, the Barker Toad has a timer of 8 minutes, the third-shortest timer of any familiar, behind only the Dreadfowl and Spirit Wolf. As a result, it's very rarely used. The poor stats of the toad are likely due to the effectiveness of summoning training that comes from crafting the pouches. This is likely an attempt to balance the training of summoning by allowing players to trade quickness and effectiveness for a decrease in profit and usefulness.
However, following the release of the bot-nuking update, the price of nature runes on the Grand Exchange rose greatly. This made the barker toad pouch one of the items that supplies one of the least amounts of loss per cast of high-level alchemy. It has since become a favorable item to be used for casting high-level alchemy. It also has a buy limit that allows alchemy to be cast quickly and effectively.
Barker toad pouch
Edit
A Barker toad pouch is made by using a Summoning pouch on a Summoning obelisk with 11 spirit shards, a Gold charm and a swamp toad. If players exchange their Barker Toad pouches at Bogrog, they will receive 8 spirit shards per pouch. Players must also have 71 Summoning to be able to exchange this pouch.
Despite being a lower level scroll than that of the Arctic Bear pouch, which requires 71 summoning and is the highest gold charm familiar a player is capable of creating, the Barker Toad is a more popular choice for training summoning. This is mainly due to the high cost of the Arctic Bear pouch relative to the cost of the Barker Toad. Normally an Arctic Bear pouch costs ten times the amount of a Barker Toad, and only for slightly over 5 experience - thus making the Barker Toad the best option for Gold Charms when it comes to training summoning.
Toad bark scroll
Edit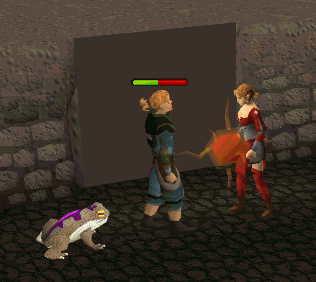 The Toad bark scroll enables the use of the Toad Bark special ability for a Barker toad. Using a Barker toad pouch on a Summoning obelisk creates ten Toad bark scrolls.
Toad Bark
Edit
Toad Bark is a special move of the Barker Toad, activated by a Toad bark scroll. When activated, a magic-based attack that can inflict up to 180 damage on an opponent is unleashed. Each use of a Toad bark scroll requires six special move points.
Cannonball
Edit
Cannonball is a right-click ability of the barker toad; to use it you must first "load" it with a cannonball (use a cannonball on the toad), and then, when in combat, right-click and select "Cannonball". The attack does not hit high and, due to the waste of inventory space combined with the other flaws of the toad (the short lifespan and the vast amount of summoning points it consumes), this special attack is considered near useless for standard training by many players. However, it is relatively popular among pures for player killing, due to its ability to stack with a normal hit and the fact that it trains strength . Its current max hit is 300 with cannonball; however, for the aforementioned reasons, this attack rarely hits and splashes frequently.
Note: If the toad is killed with a cannonball installed, the cannonball also disappears.
Gold charm

Spirit wolf • Dreadfowl • Spirit spider • Thorny snail • Granite crab • Spirit mosquito • Bull ant • Spirit terrorbird • Barker toad • War tortoise • Arctic bear

Green charm

Desert wyrm • Compost mound • Beaver • Void ravager • Macaw • Spirit cockatrice • Spirit guthatrice • Spirit saratrice • Spirit zamatrice • Spirit pengatrice • Spirit coraxatrice • Spirit vulatrice • Magpie • Abyssal parasite • Ibis • Abyssal lurker • Bunyip • Fruit bat • Forge regent • Giant ent • Hydra • Unicorn stallion • Abyssal titan

Crimson charm

Spirit scorpion • Spirit Tz-Kih • Vampyre bat • Honey badger • Evil turnip • Pyrelord • Bloated leech • Smoke devil • Spirit cobra • Stranger plant • Ravenous locust • Phoenix • Granite lobster • Praying mantis • Talon beast • Spirit dagannoth • Swamp titan • Wolpertinger • Iron titan • Pack yak • Steel titan

Blue charm

Albino rat • Spirit kalphite • Giant chinchompa • Void shifter • Void spinner • Void torcher • Bronze minotaur • Iron minotaur • Spirit jelly • Steel minotaur • Spirit graahk • Spirit kyatt • Spirit larupia • Karamthulhu overlord • Mithril minotaur • Obsidian golem • Adamant minotaur • Fire titan • Ice titan • Moss titan • Lava titan • Rune minotaur • Geyser titan

Other

See also: Summoning • Beast of Burden • Forager • Charms • Summoning Obelisks • Summoning pets • Summoning pouches • Summoning scrolls • Wishing well • Dungeoneering familiars