Barberry seed
Discuss

19
25,747pages
on this wiki
Barberry seed
Release date
20 May 2013 (Update)
Farming level
77
Patch
Bush
Time
3 hours 20 min (5x40 min)
Planting XP
175
Checking XP
1600
Harvesting XP
50 (with additional Agility xp)
Payment
15 Hammerstone hops
Quest item?
No
Tradeable?
Yes
High Alch
0 coins
Low Alch
0 coins
Store price
Not sold
Exchange price

1

coins (update)
Buy limit
100
Examine
A barberry bush seed - plant in a bush patch
[view] • [talk]

Barberry seeds are seeds that can be grown with level 77 Farming. They are planted in bush patches. These grow in three hours and twenty minutes and yield 1600 experience points from checking the health, and 50 farming experience per harvest (you can only pick once per bush). You will also have a chance to gain Agility experience on a successful pick you will get intervals of experience. The amount of Agility experience you gain per "interval" depends on your Agility level. It can be protected by paying a farmer 15 hammerstone hops. You will need only one seed to plant a barberry bush.
The seeds can be pickpocketed from gnomes, elves and dwarves. It is also possible to acquire them from Herblore Habitat, Vinesweeper and Mobilising Armies.
When picking the fruits from a fully grown bush you will jump over the bush and dive on the ground on the other side, then rolling up and eating the fruits immediately. No item is actually gained from harvesting a barberry bush.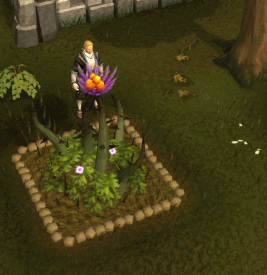 | Agility level | XP received |
| --- | --- |
| 82 | 2,270 |
| 86 | 244, 488, 732, 976, 1220 |
| 87 | 249, 498 747, 996, 1245 |
| 88 | 254, 508, 762, 1016, 1270 |
| 89 | 1295 |
| 99 | 309, 618, 927, 1236, 1545 |