Banshee
Release date
26 January 2005 (Update)
Members?
Yes
Combat level
37
XP per kill
58.5 (and 19.3 experience)
Always drops
Nothing
Examine text
A tortured screaming soul.
Slayer info
Slayer level
15
Slayer XP
15.5 (3.1 on contract; 18.6 on special contract)
Assigned by
Turael or Spria, Mazchna or Achtryn, Chaeldar, Sumona, Vannaka

Combat info
LP
Max hit
1,350
108
Attack
Defence
Ranged
Magic
27
27
1
27
Immune to
Poison?
Stun?
Deflect?
No
No
No
Attack Speed

Speed 6 (Interval: 2.4 seconds)

Aggressive?
Poisonous?
Yes
No
Attack style
Weaknesses
Magic
Arrows
Salve amulet
[view]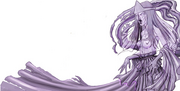 Banshees are Slayer monsters that require level 15 Slayer to kill. Additionally, banshees tend to frequently drop many different types of herbs. Mighty banshees are a higher-levelled alternative, if this is given as your Slayer assignment.
Locations
Edit
Strengths and weaknesses
Edit
Players should use earmuffs, masked earmuffs, a Slayer helmet, a Mask of Mourning or a Helm of Keening when fighting banshees, or else their characters' combat statistics (including life points) will be severely reduced. Not having earmuffs, masked earmuffs, or a slayer helmet will cause you to be damaged by your Constitution divided by 10 and your character will cover their ears. Agility is also reduced, which can be annoying for players wishing to use the shortcuts in the slayer tower. Banshees have few Life points and do not hit particularly hard. They are undead, so a Salve amulet works on them.
Banshees use a magic attack which hits from a distance. Protect from Magic prayer will work against them, but most players are likely better off using armour with a high magic defence bonus, such as dragonhide armour. Blue d'hide or better renders its attacks basically useless.
Other information
Edit
Banshees decrease many stats including: Attack, Strength, Defence, Ranged, Prayer, Magic, Agility, and Summoning.
They are popular for their tendency to drop high level herbs. Aside from banking distance they are a reasonable alternative to the popular chaos druids.
Banshees have a very high restore rate. They will restore 10 life points between attacks with a fast weapon and 20 between slower weapons. They are popular for casting spells such as Weaken on because they will restore the lowered stats extremely quickly, so it can be recast.
As of the Rune Value Improvements update, Banshees no longer drop noted pure essence.
Champions' Challenge
Edit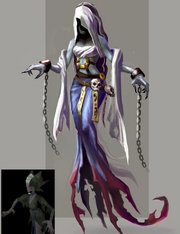 Banshees are one of the 'races' who have lesser champions in the Champions' Challenge activity. To fight the Banshee Champion, the player must kill banshees until one drops a Champion scroll, which is a very rare drop.
Weapons/Armour
Edit
Herbs & Seeds
Edit
Rare drop table drops
Edit
Universal drops
Edit

Wikipedia has an article about: