Banshee
Release date
26 January 2005 (Update)
Members?
Yes
Combat level
54
XP per kill
81.7 (and 26.9 experience)
Slayer level
15
Slayer XP
15.5 (18.6 on contract)
Assigned by
Turael or Spria, Mazchna or Achtryn, Chaeldar, Sumona, Vannaka
Always drops
Nothing
Examine text
A tortured screaming soul.

Combat stats
LP
Max hit
1350
108
Attack
Defence
Ranged
Magic
Unknown
Unknown
Unknown
Unknown
Other
Immune to Poison?
Immune to Stun?
No
No
Attack Speed

Speed 6 (Interval: 2.4 seconds)

Aggressive?
Poisonous?
Yes
No
Attack style
Weaknesses
Magic

Arrows
Salve amulet
Salve amulet (e)

[view template]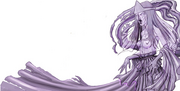 Banshees are Slayer monsters that require level 15 Slayer to kill. They frequently drop 13 noted pure essence, making them an alternative source of essence. Additionally, banshees tend to frequently drop many different types of herbs. Mighty banshees are a higher-levelled alternative, if this is given as your Slayer assignment.
Locations
Edit
Strengths and weaknesses
Edit
Players should use earmuffs, masked earmuffs, or Slayer helmets when fighting banshees, or else their characters' combat statistics (including life points) will be severely reduced. Not having earmuffs, masked earmuffs, or a slayer helmet will cause you to be damaged by your Constitution divided by 10 and your character will cover their ears. Agility is also reduced, which can be annoying for players wishing to use the shortcuts in the slayer tower. Banshees have few Life points and do not hit particularly hard. They are undead, so a Salve amulet works on them.
Banshees use a magic attack which hits from a distance. Protect from Magic prayer will work against them, but most players are likely better off using armour with a high magic defence bonus, such as dragonhide armour. Blue d'hide or better renders its attacks basically useless.
Other information
Edit
Banshees decrease many stats including: Attack, Strength, Defence, Ranged, Prayer, Magic, Agility, and Summoning.
They are popular for their tendency to drop high level herbs. Aside from banking distance they are a reasonable alternative to the popular chaos druids.
On a quick hunt, these creatures can profit a lower level character very well. Depending on the amount of Pure Essence, a lower levelled character can make anywhere from 50-70k per hour solely on the Pure Essence dropped.
Banshees have a very high restore rate. They will restore 10 life points between attacks with a fast weapon and 20 between slower weapons. They are popular for casting spells such as Weaken on because they will restore the lowered stats extremely quickly, so it can be recast. Crumble Undead also worked on Banshees, before the Evolution of Combat update.
Champions' Challenge
Edit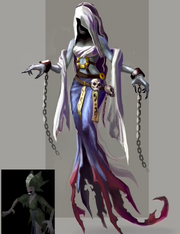 Banshees are one of the 'races' who have lesser champions in the Champions' Challenge activity. To fight the Banshee Champion, the player must kill banshees until one drops a Champion scroll, which is a very rare drop.
Weapons/Armour
Edit
Rare drop table drops
Edit
This monster drops items from the rare drop table.
The ring of wealth improves the chances if equipped but is not required to access the table.
Show/hide rare drop table

Item
Quantity
Rarity
GE Market Price
Coins
250; 381; 450; 3,000; 9,000; 12,000
Common
Not sold
Uncut sapphire
1
Common
1,121
Uncut emerald
1
Common
1,741
Uncut ruby
1
Common
3,649
Loop half of a key
1
Uncommon
7,954
Tooth half of a key
1
Uncommon
12,275
Uncut diamond
1
Uncommon
7,396
Uncut dragonstone
1
Rare
14,574
Dragonstone
1
Rare
9,556
Dragon dagger
1
Uncommon
17,219
Rune battleaxe
1
Rare
24,667
Rune javelin
5
Rare
1,275
Adamant javelin
20
Very rare
980
Rune spear
1
Very rare
11,844
Dragon spear
1
Very rare
37,094
Dragon dagger
50 (noted)
Very rare
860,950
Rune kiteshield
1
Very rare
32,349
Shield left half
1
Very rare
65,262
Dragon helm
1
Very rare
59,709
Adamant bolts
200
Uncommon
17,200
Rune arrow
150–200; 500
Rare
29,250–195
Onyx bolts
150
Rare
1,296,300
Battlestaff
200 (noted)
Rare
1,666,200
Air orb
1,000 (noted)
Rare
1,340,000
Fire orb
1,000 (noted)
Rare
1,424,000
Vecna skull
1
Very rare
133,474
Water talisman
1
Uncommon
4,796
Earth talisman
25–35 (noted)
Uncommon
19,625–27,475
Fire talisman
25–35 (noted)
Uncommon
47,475–66,465
Chaos talisman
1
Uncommon
251
Nature talisman
1
Uncommon
255
Pure essence
500–15,000 (noted)
Uncommon
43,000–1,290,000
Nature rune
47–77
Rare
5,264–8,624
Soul rune
20
Rare
2,460
Death rune
50; 121
Rare
93
Blood rune
50
Rare
8,300
Raw swordfish
125 – 250; 1,000 (noted)
Uncommon
36,375–291
Raw shark
250–500 (noted)
Uncommon
245,500–491,000
Big bones
150 – 500 (noted)
Uncommon
66,150–220,500
Coal
150–7,500 (noted)
Uncommon
40,800–2,040,000
Adamantite ore
150–800 (noted)
Uncommon
218,850–1,167,200
Silver ore
100 (noted)
Rare
11,000
Adamant bar
1,000–7,000 (noted)
Rare
3,242,000–22,694,000
Runite ore
100 (noted)
Rare
1,046,100
Rune bar
1,50,150 (noted)
Rare
13,006–1,950,900
Clean ranarr
33 (noted)
Uncommon
73,359
Clean toadflax
25–250 (noted)
Uncommon
95,225–952,250
Clean snapdragon
30–120 (noted)
Uncommon
110,070–440,280
Clean torstol
10–100 (noted)
Uncommon
108,710–1,087,100
Saradomin brew (4)
250 (noted)
Very rare
156,000
Watermelon seed
3
Uncommon
5,889
Yew seed
1–50
Rare
67,826–3,391,300
Magic seed
1–6
Rare
164,198–985,188
Palm tree seed
10
Rare
1,156,740
Snapdragon seed
1
Rare
2,360
Torstol seed
1–31
Rare
70,221–2,176,851
Fellstalk seed
2
Rare
1,018
Yew logs
100–20,000 (noted)
Rare
54,500–10,900,000
Slayer Tower

Crawling Hand • Banshee • Infernal Mage • Bloodveld • Aberrant spectre • Gargoyle • Nechryael • Abyssal demon

Fremennik Slayer Dungeon

Cave crawler • Rockslug • Cockatrice • Pyrefiend • Basilisk • Jelly • Turoth • Kurask • Aquanite

Lumbridge Swamp Caves
Poison Waste Slayer Dungeon
Pollnivneach Slayer Dungeon

Banshee (Mighty) • Cave crawler (Monstrous) • Basilisk (boss) • Turoth (Mightiest and Swarming turoth) • Kurask (overlord) • Aberrant spectre

Meiyerditch Dungeon
God Wars Dungeon

Pyrefiend • Bloodveld • Spiritual ranger • Spiritual warrior • Spiritual mage

Jadinko Lair

Mutated jadinko baby • Mutated jadinko guard • Mutated jadinko male

Polypore Dungeon

Grifolaroo • Grifolapine • Ganodermic runt • Ganodermic beast

Daemonheim

Crawling hand • Cave crawler • Cave slime • Pyrefiend • Night spider • Jelly • Spiritual guardian • Seeker • Nechryael • Edimmu • Soulgazer

Others

Gelatinous Abomination • Desert Lizard • Mogre • Harpie Bug Swarm • Killerwatt • Molanisk • Terror dog • Brine rat • Fever spider • Mutated zygomite • Cave horror • 'Rum'-pumped crab • Dust devil • Skeletal Wyvern • Jungle strykewyrm • Desert strykewyrm • Dark beast • Ice strykewyrm

Specials

Bork • Skeletal horror • Phoenix • Jade vine(wild)

Slayer pets

| | |
| --- | --- |
| Soul Wars | Creeping hand • Minitrice • Baby basilisk • Baby kurask • Abyssal minion • TzRek-Jad |
| Social Slayer | |
| Other | Cresbot |