Bank organisation
Discuss

22
22,500pages
on this wiki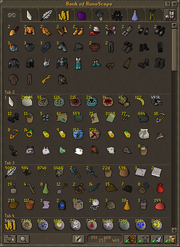 Bank organisation is the practice of rearranging the items in a player's bank account, especially using the tabs to classify items into categories. A disorganised bank is a common problem amongst many players, and can make finding the right item when it is needed difficult.
Banks can become disorganised when:
A player has not cleaned out their bank before
A player's lack of discipline in returning items to their previously organised state after use.
A player keeps many or all items received without discarding or selling any items, especially those items obtained from quests
A player's account is stolen and the thief rearranges the bank and drops/destroys items.
Organising the bank can be a quick and easy task, especially for newer players.
Saving space
Edit
Some great ways to remove clutter are:
Destroy or store in your POH all non-tradeable holiday items; of course if players like to wear a specific holiday item they can go ahead and keep it, but the ones that just take up bank space and are never worn or used can be destroyed. If players want these items in the future, they can still get them back by speaking to Diango, in Draynor Village.
Drop all Quest items; during some quests players will receive items that they will never need again once they have completed the quest. These are the items that seem to clutter up most players' banks. Players can drop (or destroy) these items. This will save a lot of bank space. However, some items gained in a quest are needed for a future quest.
An easy way to remove old quest items is to visit the Wise Old Man who can search through your bank for you.
Drop useless items, such as burnt fish.
Sell crops from Farming; farmers, especially beginning farmers have a lot of junk crops, such as cabbages. These have some uses (for example, in Cooking or for paying a gardener to watch over growing crops), but players may find the bank space more useful.
Make use of a Costume Room; players who have embraced the art of Construction and have adorned their home with a Costume Room can buy mahogany flatpacks. Players can use the appropriate storage spaces to hold the armour and clothing that seems to take up space.
Make use of a Menagerie; players who have embraced the art of Construction and have adorned their home with a Menagerie can store their pets here. The maximum amount of pets allowed in the menagerie is 15, though. Only adult, fully-grown pets can be stored in the menagerie.
Use a Steel key ring to store several different keys.
Combine potions of the same kind, keeping different dosages of the same potion can quickly consume bank space.
Make use of rewards such as the gem bag from dungeoneering and the steel key ring from the One Small Favour quest.
Destroying Squeal of Fortune cosmetic rewards. Players can reclaim rewards they gained from Squeal of Fortune from Diango in Draynor Village, similar to holiday items.
Tips and hints
Edit

With the Bank Update and Item Lending update of 14 July 2008, Jagex added an update to include tabs to sort items and help re-arrange items in the bank[1]. The tab farthest to the left is the main bank tab (the infinity symbol "∞"), which will display the entire contents of the player's bank account.
As of May 2012, Jagex has given RuneScape players an opportunity to be able to add up to an extra 20 additional bank spaces into their bank. To gain this addition to your bank, a player must register an updated and current email address related to their account. As well as registering an email address, security questions are also recommended to gain more 'free' bank spaces. This also adds security to your account.
If players want to create a new tab, simply drag an item to the '+' tab. Clicking on this tab will show only the items within this tab. The first slot in any tab (except the main tab) will show up as an image to show what is in the tab. An example of a good tab is as follows:
A maximum of eight custom tabs are allowed, in addition to the main tab, which lists all items in the bank. Players may choose how to organise their tabs
If you need any more help, click the Question Mark button "?" located next to the close button in the bank window.
Players can buy their armour in sets, especially Barrows equipment. For example, if a player has the Attack, Strength, Defence, and Hitpoints Capes of Accomplishment, as well as two sets of all Barrows armour, they may organise their bank like this:
This is a very clever way to organise the bank, especially if players do have four skillcapes, and all Barrows armour. This is because the four capes would take up two slots each, one for the hood, one for the cape. The capes will take up the whole first line of the bank tab. There are four pieces to each Barrows set, not including bolt racks for the Karil's crossbow, there are six (now seven) sets of armour, this means that the next three lines of the bank would be all Barrows armour. All armour sets on RuneScape typically will take up four spots, if stored properly (or one if packed into a set). One argument is that Bandos and Armadyl armour will not take up four spots, but if players have the corresponding godswords they will be able to successfully follow the rule of four. Please note however that this is not for everybody as it will take up all eight tabs and will make  a jumbled mess in the first tab. This may become a high inconvienience to some players. Also note that you will have to switch through multiple tabs to get a set, and will have to go through multiple tabs to put them back.
Another banking tactic among players is to use "place holder" items. A place holder is an extra of an item, that is left in the bank, so that the organization set up is unchanged by removing and using an item. while this is NOT possible with some special "one of" items, it is an extremely useful approach. For example: you want your pick axe to always remain next to your ores in the bank. You acquire 2 of the pick type you use, then bank both, moving the stack to the chosen location. Assuming you only ever withdraw 1 of them, whenever you bank it, it returns to the stack you have created, saving you the effort of having to move it every time you bank it.
References
Edit