Bandos warshield
Discuss

3
22,503pages
on this wiki
This article is about God wars dungeon drop. For Treasure Trails reward, see
Bandos kiteshield
.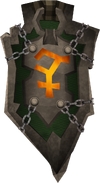 The Bandos warshield is a part of the Bandos armour set, requiring 70 Defence to wear. It is dropped by General Graardor and his bodyguards in the God Wars Dungeon.
Its stats are exceeded by the Chaotic kiteshield (which degrades after 10 hours of combat), and the Divine spirit shield. The shield is the melee equivalent of the armadyl buckler and the ward of subjugation. It has identical stats to the blessed spirit shield, although the blessed shield has more prayer bonus and requires a quest completion to equip. It also has identical stats to the fully charged melee-based dragonfire shield.
Combat Stats

| Class | Slot |
| --- | --- |
| Melee | |

Weapons
Main
Off
Damage
-
-
Accuracy
-
-
Type
-
-
Attributes
Armour rating

297

Life bonus

+1050

Prayer bonus

1

Critical bonuses

0%

0%

0%

Compare item

[view] • [talk]
Dropping monsters
Edit
The Bandos warshield was originally called the Bandos kiteshield. However, players voiced that it shared its name with the Treasure Trail reward; it was changed shortly after.
The shield had a price of 15,000,000 coins on the Grand Exchange on the day of release.
Since the armour bonus update, the shield has been suffering a terrific loss in value, as its only attribute over a dragonfire shield is its prayer bonus.
Godswords

Armadyl • Bandos • Saradomin • Zamorak

Robes of subjugation
Armadyl armour

Helmet • Chestplate • Chainskirt • Gloves • Boots • Buckler

Bandos armour

Helmet • Chestplate • Tassets • Gloves • Boots • Warshield

Torva armour
Pernix armour
Virtus armour
Ancient ceremonial robes
Frozen key

Frozen key • Armadyl • Bandos • Saradomin • Zamorak

Weapons

Saradomin sword • Zamorakian spear • Armadyl crossbow • Steam battlestaff • Zaryte bow • Virtus wand • Book

Amulets
Books

Armadyl's assault • Zilyana's notes • The glory of general graardor • Nex's followers • Razulei's tale

Soulstones

Armadylean soulstone • Bandosian soulstone • Saradominist soulstone • Zamorakian soulstone