Bandos godsword
Discuss

23
22,528pages
on this wiki
For the Lucky version, see Lucky Bandos godsword.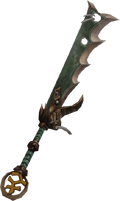 The Bandos godsword is one of the 4 godswords; received in pieces from General Graardor in the God Wars Dungeon. As with all godswords, it requires 75 Attack to wield. Its special attack, "Warstrike", inflicts 15% more damage and drains the opponent's combat stats by 10% of the damage hit in the following order: Defence, Strength, Attack, Prayer, Magic, Ranged. For example, if the special attack inflicts 500 damage on a foe with 30 in all combat stats, it would drain their Defence to 0 and their Strength to 10. The special attack drains 100% of the special attack bar (or 90% of the special bar while equipping a ring of vigour, obtained with dungeoneering tokens). This special attack is similar to the Dorgeshuun crossbow, bone dagger, and barrelchest anchor. Because Strength is drained right after Defence, the special attack of the Bandos godsword can be potentially lethal to Strength pures who only have 1 Defence. A Stat Restore potion would be a good idea if you're fighting another player who is using a Bandos Godsword.
Uses
Because General Graardor is the most popular boss to kill in the God Wars Dungeon, the Bandos godsword is the most commonly seen godsword among players. Because of this relatively plentiful supply, the Bandos godsword is the cheapest one to buy. However, all of the godswords share the same combat bonuses. The only difference from the other Godswords is the special attack and the hilt.
This weapon has been made popular due to the devastating damage that can be inflicted on other players in PvP situations. This weapon can be very effective in the wilderness as it can significantly lower Defence and Strength levels which make it difficult to survive.
The Bandos godsword is also extremely useful for bosses with very high Defence levels. Should the player hit high damage, such as 400+ with the Bandos godsword "Warstrike" special attack, the defence of the boss will be significantly decreased, allowing the rest of the fight to be far easier, as more of the player's attacks will hit.
This Godsword is sometimes chosen by some players due to low costs and its special attack, which can often hit well over 800 damage (if conditions are properly set).
Lately, the Bandos godsword's price and popularity have been increasing due to the upcoming combat update, in which the special attack would be taken away but compensated by boosted stats; this would also make all four godswords identical and the only differences would be cosmetic and the protection offered in the God Wars Dungeon.
Combat Stats

| Class | Slot |
| --- | --- |
| Unknown edit | |

Weapons
Main
Off
Damage
-
-
Accuracy
-
-
Type
-
-
Attributes
Armour rating

0

Life bonus

+0

Prayer bonus

+8

Critical bonuses

0%

0%

0%

Compare item

A player wielding a bandos godsword

[view] • [talk]
Combat styles
Template:CombatStyles TwoHandedSword
See also
Standard

Bronze • Iron • Steel • Black • White • Mithril • Adamant • Rune • Dragon

Other
Godswords

Armadyl • Bandos • Saradomin • Zamorak

Robes of subjugation
Armadyl armour

Helmet • Chestplate • Chainskirt • Gloves • Boots • Buckler

Bandos armour
Torva armour
Pernix armour
Virtus armour
Ancient ceremonial robes
Frozen key

Frozen key • Armadyl • Bandos • Saradomin • Zamorak

Weapons

Saradomin sword • Zamorakian spear • Armadyl crossbow • Steam battlestaff • Zaryte bow • Virtus wand • Book

Amulets
Books

Armadyl's assault • Zilyana's notes • The glory of general graardor • Nex's followers • Razulei's tale

Soulstones

Armadylean soulstone • Bandosian soulstone • Saradominist soulstone • Zamorakian soulstone