Bandos godsword
Discuss

23
24,283pages
on this wiki
For the version won on the Squeal of Fortune, see lucky Bandos godsword.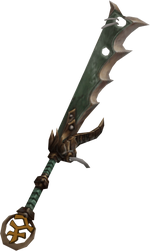 The Bandos godsword is one of the four legendary godswords that was fought over during the God Wars. Requiring 75 Attack to wield, it is created by attaching a Bandos hilt to a completed godsword blade, which has no requirements and can be done by any player. Along with the Armadyl godsword, the Saradomin godsword, and the Zamorak godsword, the Bandos godsword carries one of the highest damage bonuses in the surface world, surpassed only by vesta's spear and the chaotic maul.
Like all godswords, the Bandos godsword has a passive effect. It decreases the target's level in Defence by 1 if they are above a certain base Defence level. This passive effect has a 25% chance of occurring with a successful hit.
Because General Graardor is the most popular boss to kill in the God Wars Dungeon, the supply of Bandos hilts is very high, and the Bandos godsword is therefore the most commonly seen godsword among players. Consequently, it is the least expensive godsword. Some players who wish to train with a godsword will usually buy a Bandos godsword, as it is the cheapest and yet has very high weapon bonuses.
Combat Stats

| Class | Slot |
| --- | --- |
| Melee | |

Weapons
Main
Off
Damage
1676
-
Accuracy
1694
-
Style
Slash
-
Attributes
Armour rating

0

Life bonus

+0

Prayer bonus

4

Critical bonuses

0%

0%

0%

Attack speed

Average

Interval: 3.6 seconds

Compare item

A player wielding a bandos godsword

[view] • [talk]
The Bandos godsword is somewhat popular when fighting high-level boss monsters, such as Nomad, God Wars Dungeon bosses, and even the Corporeal Beast. The passive effect can substantially drain the target's Defence, making the fight easier.
When fighting against players, defence levels provide a damage soaking effect (since the EoC). Testing suggests (your Defence level)*0.2% of damage is mitigated when attacked by another player in PvP (however, this damage soaking effect doesn't seem to apply on monsters). Therefore Bandos godsword's defence draining effect not only indirectly increases ones' accuracy, it also indirectly increases ones' damage in PvP. This makes Bandos godsword the strongest godsword in PvP post-EoC. (the Armadyl godsword no longer has the best damage or even boosts damage at all with its passive effect, unlike its pre-EoC special attack).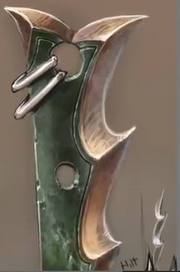 Before the Evolution of Combat, this weapon used to have a special attack.
Like all godswords and the God Wars Dungeon itself, the Bandos godsword received a graphical update in September 2012.
Previously, if a player wielding a Bandos godsword goes to a free-to-play world and attacks a target, they would do a unique animation in which they smash the target with the pommel, dealing the same damage as unarmed combat. After an update, members weapons now prevent players from attacking at all on free worlds.
Standard

Bronze • Iron • Steel • Black • White • Mithril • Adamant • Rune • Dragon

Other
Godswords

Armadyl • Bandos • Saradomin • Zamorak

Robes of subjugation
Armadyl armour

Helmet • Chestplate • Chainskirt • Gloves • Boots • Buckler

Bandos armour
Torva armour
Pernix armour
Virtus armour
Ancient ceremonial robes
Frozen key

Frozen key • Armadyl • Bandos • Saradomin • Zamorak

Weapons

Saradomin sword • Zamorakian spear • Armadyl crossbow • Steam battlestaff • Zaryte bow • Virtus wand • Virtus book

Amulets
Books

Armadyl's assault • Zilyana's notes • The glory of general graardor • Nex's followers • Razulei's tale

Soulstones

Armadylean soulstone • Bandosian soulstone • Saradominist soulstone • Zamorakian soulstone