Bandos armour
Discuss

13
22,528pages
on this wiki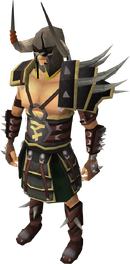 Bandos armour is a set of armour consisting of Bandos boots, Bandos chestplate, and Bandos tassets. The items are rare drops from General Graardor and his minions, Sergeant Strongstack, Sergeant Steelwill, and Sergeant Grimspike, in the God Wars Dungeon. Each piece requires 65 Defence to wear. Each piece of Bandos armour gives a +1 Prayer bonus.
Bandos armour is typically very expensive, because it is in high demand and is a rare drop in the dangerous God Wars Dungeon. The demand is due to the armour's strength bonus and decent defence bonus. Many players consider the armour effective for Combat and Slayer training. The extra Strength bonus from Bandos armour complements the Rune or Dragon Defender's accuracy and strength bonus very well, and is often the most efficient setup for general training where high defence or anti-fire protection is not needed.
Some players who seek to maximize Strength bonuses prefer to use just the chestplate and tassets but not the boots, since the boots do not have a strength bonus. These players often instead use Dragon boots, which have a +4 strength bonus and only slightly lower defence ability than the Bandos boots. Other players prefer the Bandos boots because of their combination of high defence ability and +1 Prayer bonus.
The tassets are sometimes worn with the Fighter torso, which also has a +4 strength bonus, instead of the chestplate. This is often done by players who cannot or prefer not to incur the expense of buying both tassets and the chestplate.
Bandos armour is not the strongest Melee armour in RuneScape; Barrows, and Torva equipment have higher defence and Torva equipment also has the same strength bonuses. Many players, however, regard it as one of the most useful armour sets in the game, as it has high defence, prayer bonus, and strength bonus. Although expensive, unlike Barrows or Torva equipment it does not degrade when used or dropped, so there is no on-going maintenance expense. Bandos is much more expensive than Barrows armours, but the cost is significantly less than Torva, making it a halfway point of sorts.
Bandos recently got a major graphical update on 6 March 2012.
Items
References
See also
Trivia
Praying at the altar in General Graardor's chamber while wearing any piece of Bandos armour boosts Prayer points above normal by 10 points per piece.
Until the armour graphical update, this armour was worn with the Slayer helmet due to the similarity in colour scheme.
General Graardor wears this set, along with a helmet that is currently unobtainable.
The Bandos armour along with other Godwars armour can technically be classified as third age armour because of the fact that it should have been forged during the third age according to the timeline of RuneScape.
Bandos armour, along with many other armours, has received a graphical enhancement on 6 March 2012.
Godswords

Armadyl • Bandos • Saradomin • Zamorak

Robes of subjugation
Armadyl armour

Helmet • Chestplate • Chainskirt • Gloves • Boots • Buckler

Bandos armour
Torva armour
Pernix armour
Virtus armour
Ancient ceremonial robes
Frozen key

Frozen key • Armadyl • Bandos • Saradomin • Zamorak

Weapons

Saradomin sword • Zamorakian spear • Armadyl crossbow • Steam battlestaff • Zaryte bow • Virtus wand • Book

Amulets
Books

Armadyl's assault • Zilyana's notes • The glory of general graardor • Nex's followers • Razulei's tale

Soulstones

Armadylean soulstone • Bandosian soulstone • Saradominist soulstone • Zamorakian soulstone