Bandos armour
Discuss

13
24,289pages
on this wiki

Bandos armour is a set of armour consisting of Bandos boots, Bandos chestplate, Bandos tassets, Bandos helmet, Bandos warshield, and Bandos gloves. The items are rare drops from General Graardor and his minions, Sergeant Strongstack, Sergeant Steelwill, and Sergeant Grimspike, in the God Wars Dungeon. Each piece requires 70 Defence to wear.
Bandos armour is typically expensive, because it is in high demand and is a rare drop in the dangerous God Wars Dungeon. Many players consider the armour effective for Combat and Slayer training, as it does not degrade over time, adds melee weapon damage bonus, and offers similar (albeit less) defence bonuses as Barrows armour. It is one of the strongest non-degradable armours in-game.
Bandos armour is considered the third strongest melee armour; tetsu armour and Torva armour have higher life point and armour bonus. As of an Evolution of Combat update on 30 April 2013, the Bandos armour set is now a "Power armour". It now gives a 10% boost to damage, limited to an average speed single handed weapon of the same tier, distributed across the different pieces, when wearing the whole set excluding the shield. All pieces except the shield give a damage bonus, this is the entire damage boost the set gives as there is no set effect. It has lower defensive stats and lifepoint boosts than Barrows armour now, effectively making the Bandos armour set level 70 power gear. This is considered to be the melee version of the Armadyl equipment and the Robes of subjugation which are also earned in the God Wars Dungeon.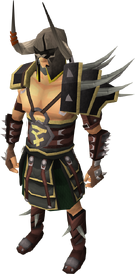 Bandos armour set received a major graphical update on 6 March 2012.
Bandos Grand Exchange cost 
Bandos helmet
 

5,939,941

[view] 
Bandos chestplate
 

6,268,494

[view] 
Bandos tassets
 

4,203,880

[view] 
Bandos gloves
 

3,009,342

[view] 
Bandos boots
 

1,580,034

[view] 
Bandos warshield
 

93,821

[view]
Total
 

21,095,512

coins
[view]
•
[talk]
Components and Bonuses
Edit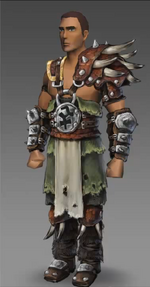 Godswords

Armadyl • Bandos • Saradomin • Zamorak

Robes of subjugation
Armadyl armour

Helmet • Chestplate • Chainskirt • Gloves • Boots • Buckler

Bandos armour
Torva armour
Pernix armour
Virtus armour
Ancient ceremonial robes
Frozen key

Frozen key • Armadyl • Bandos • Saradomin • Zamorak

Weapons

Saradomin sword • Zamorakian spear • Armadyl crossbow • Steam battlestaff • Zaryte bow • Virtus wand • Virtus book

Amulets
Books

Armadyl's assault • Zilyana's notes • The glory of general graardor • Nex's followers • Razulei's tale

Soulstones

Armadylean soulstone • Bandosian soulstone • Saradominist soulstone • Zamorakian soulstone