Bandos equipment is a full set of melee power armour and shield that requires 70 Defence to wear. The armour pieces are rare drops from General Graardor and his bodyguards in the God Wars Dungeon. Bandos equipment is non-degradable, and it is the melee equivalent to Armadyl armour and the robes of subjugation, which are Ranged and Magic sets respectively.
Because Bandos equipment is strong, does not degrade, and has a Strength bonus, it is in demand and considerably more expensive than Barrows equipment, which has higher defensive bonuses. Bandos equipment is most often used for training combat and Slayer, and for fighting bosses at medium to high levels.
Bandos Grand Exchange cost
Bandos helmet

334,127

 [view]
Bandos chestplate

3,588,495

 [view]
Bandos tassets

1,676,162

 [view]
Bandos gloves

595,870

 [view]
Bandos boots

837,971

 [view]
Bandos warshield

156,763

 [view]
Total price

7,189,388
[view]
•
[talk]
Components and bonuses
Edit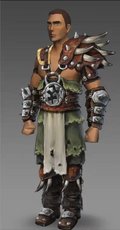 Free-to-play
Members

| | |
| --- | --- |
| Tank | |
| Power | |
| PvP | |
| Unreleased | |
Ad blocker interference detected!
Wikia is a free-to-use site that makes money from advertising. We have a modified experience for viewers using ad blockers

Wikia is not accessible if you've made further modifications. Remove the custom ad blocker rule(s) and the page will load as expected.