Balmung is a two-handed weapon, made of bane ore tuned to dagannoths, obtained from Queen Sigrid during the quest Blood Runs Deep. Level 60 Attack and level 65 Slayer are necessary to wield the weapon as these are required to start the quest. Balmung is obtained relatively early in Blood Runs Deep and does not require any further completion of the quest to use it.
Balmung deals extra damage against Dagannoths; it hits significantly higher with both normal attacks and abilities compared to other weapons around its level. Thus, it is considered an excellent choice when fighting the Dagannoth Kings.
If a player destroys Balmung after Blood Runs Deep, they can retrieve it from Queen Sigrid in the castle on Miscellania. During the quest, it can be retrieved from Brundt the Chieftain. He tells the player that the next time Balmung is lost, they will have to pay 225,000 coins to get it back. If you have completed the miniquest to obtain the upgraded Balmung, then you can receive the upgraded version from talking to Kharshai. He tells the player that the next time the upgraded version is lost, they will have to pay 300,000 coins to get it back.
Combat Stats

| Class | Slot |
| --- | --- |
| Melee | |

Weapons
Main
Off
Damage
1341
-
Accuracy
1132
-
Type
Slash
-
Attributes
Armour rating

0

Life bonus

+0

Prayer bonus

0

Critical bonuses

0%

0%

0%

Attack speed

Average

Interval: 3.6 seconds

Compare item

A player wielding balmung

[view] • [talk]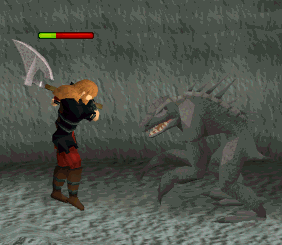 In Norse mythology, Balmung (or Gram) was the magical sword of the hero Sigurd or Siegfried as known in Germany.
Wallasalkis are affected by the Balmung effect as if they were Dagannoth, but interestingly don't count toward a Dagannoth slayer task.
The max hit for Balmung under perfect conditions, while in max gear/potions/prayers, is 5795.
The knock-out aura does work with the Balmung.
This weapon does not have the same effect on the Spirit dagannoth summoning familiar.
Yak hide armour
Rock-shell armour
Spined armour
Skeletal armour
Rings

Warrior ring (imbued) • Berserker ring (imbued) • Seers' ring (imbued) • Archers' ring (imbued)

Helms

Fremennik • Archer • Warrior • Farseer • Berserker • Helm of neitiznot

Others

Fremennik blade • Fremennik shield • Fremennik cloak • Gloves (Fremennik) • Round shield • Balmung