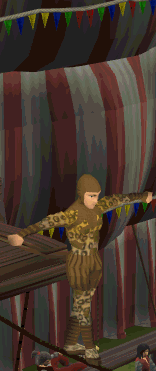 Balls are used in the Agility performance while in Balthazar Beauregard's Big Top Bonanza. They are obtained from the Juggling Equipment box, next to the Agility assistant. Players can juggle these at any Agility level; however, the suggested level for consistent success is an Agility level of 10 or higher. It is possible to fail even at higher levels, however.
Performances

Magic performance
Ranged performance
Firemaking performances
Juggle items
 Balls
 Plates
 Eggs
 Knives
 Spades
 Tuna
 Soap
 Cannon balls
 Torches
 Chinchompas
Tightrope tricks
Ad blocker interference detected!
Wikia is a free-to-use site that makes money from advertising. We have a modified experience for viewers using ad blockers

Wikia is not accessible if you've made further modifications. Remove the custom ad blocker rule(s) and the page will load as expected.