A balance beam is a form of a combat ring that can be built in the Combat Room of a player-owned house. Using a pugel stick from an extra weapons rack, a player must climb onto the balance beam and use the pugel stick to try and knock the opponent down. The first person to fall off the balance beam is considered the loser.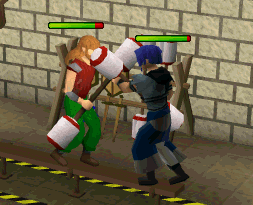 Ad blocker interference detected!
Wikia is a free-to-use site that makes money from advertising. We have a modified experience for viewers using ad blockers

Wikia is not accessible if you've made further modifications. Remove the custom ad blocker rule(s) and the page will load as expected.