Bakriminel bolts
Discuss

14
22,528pages
on this wiki
Bakriminel bolts
Release date
20 March 2012 (Update)
Members?
Yes
Quest item?
No
Tradeable?
Yes
Lendable?
No
Equipable?
Yes
Stackable?
Yes
High Alch
90 coins
Low Alch
60 coins
Destroy
Drop
Store price
Not sold
Exchange price

135

coins (info)
Buy limit
1,000
Examine
They have a mind of their own.
Weight
0 kg
[view]
•
[talk]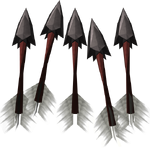 Bakriminel bolts
are bolts fletched from the
Bloodwood tree
and tipped with bolt tips bought from
Mami Rimba
. The Bakriminel bolts have a
Ranged
requirement of 80, tied for highest-level bolt with
royal bolts
and
onyx bolts (e)
, yet they have a lower Damage stat of 585.
Bakriminel bolts can only be used with a level 80 crossbow or higher
– namely, the
chaotic crossbows
and the
royal crossbow
.
Fletching these bolts requires 93 Fletching (it is assistable) and must be done near the tree – attempting to take the bloodwood logs away from the tree causes them to disintegrate. The bolt tips must be bought from Mami Rimba who resides near the wilderness wall north-west of Edgeville. Attaching the bolt tips to the bolt shafts gives 130 Fletching experience per bolt.
Attempting to take the logs or shafts two squares or more away from the tree will result in them being reduced to dust, causing them to be lost completely. These bolts can only be made at the tree.
Since the introduction of Evolution of Combat, Bakriminel bolts now appear on the ground and can be retrieved by Ava's devices.
Combat Stats

| Class | Slot |
| --- | --- |
| Ranged | |

Weapons
Main
Off
Damage
585
-
Accuracy
-
-
Type
Bolt
-
Attributes
Armour rating

0

Life bonus

+0

Prayer bonus

0

Critical bonuses

0%

0%

0%




Compare item

[view] • [talk]
On the day of release, Bakriminel bolts sold for prices upward of 12,000 coins each.
If you attempt to add a Bakriminel bolt to the Bolt pouch a message is displayed saying "The pouch won't hold that kind of bolt at the moment". This feature may be added in a future update.
On the Grand Exchange, there is no level requirement; however when attempting to equip them, it tells you the true requirement.
On the day of release the Bakriminel bolts gave defence experience when aimed at the legs, this was a glitch.
Castle Wars halos seem to count as Magic headgear, despite having no Magic attack bonus. However, it is more than likely the halos are simply not recognised as an actual helmet, thereby removing any chance of defending against the aimed shot.
Bakriminel bolts seem to have an extremely high critical hit chance in PVP combat, Nearing 40% of all hits being critical, especially so against mages where the criticals seem to be about 60% of all hits.
Metal bolts

Bronze (unf) • Blurite (unf) • Silver (unf) • Iron (unf) • Steel (unf) • Black • Mithril (unf) • Adamantite (unf) • Runite (unf)

Gem bolt tips

Opal • Jade • Pearl • Red topaz • Sapphire • Emerald • Ruby • Diamond • Dragonstone • Onyx

Gem-tipped bolts

Opal • Jade • Pearl • Red topaz • Sapphire • Emerald • Ruby • Diamond • Dragonstone • Onyx

Enchanted bolts

Opal (e) • Jade (e) • Pearl (e) • Red topaz (e) • Sapphire (e) • Emerald (e) • Ruby (e) • Diamond (e) • Dragonstone (e) • Onyx (e)

Bane bolts

Abyssalbane bolts (unf) • Basiliskbane bolts (unf) • Dragonbane bolts (unf) • Wallasalkibane bolts (unf)

Other bolts

Bakriminel bolts • Barbed bolts • Bolt rack • Bone bolts • Broad-tipped bolts (unf) • Kebbit bolts • Long kebbit bolts • Mithril grapple (unf) (tip) • Coral bolts • Royal bolts • Hand cannon shot