Baby red dragon
Discuss

2
22,517pages
on this wiki
Not to be confused with baby dragon (pet) or baby red dragon (POH).
Baby red dragon
Release date
27 February 2002 (Update)
Members?
Yes
Combat level
68
XP per kill
110 (and 36.3 experience)
Slayer level
1
Slayer XP
50
Assigned by
Sumona
Always drops
Babydragon bones
Examine text
Young but still dangerous.

Combat stats
LP
Max hit
1700
136
Attack
Defence
Ranged
Magic
Unknown
Unknown
Unknown
Unknown
Other
Immune to Poison?
Immune to Stun?
No
Unknown edit
Attack Speed

Speed 6 (Interval: 2.4 seconds)

Aggressive?
Poisonous?
Only if you attack them.
No
Attack styles
Weaknesses
Melee
Magic

Arrows
Bane ammo

[view template]
Baby red dragons are located in the Brimhaven Dungeon. They have the same combat level as the baby blue dragons that inhabit the Taverley Dungeon, although the baby red dragons in a POH dungeon are level 65, not 48, and the baby blue dragons have a maximum hit of 60, 6 higher than that of baby red dragons. Examine info for the Baby red dragons in a POH dungeon when challenge mode is off says "young but still dangerous" but when challenge mode is on, it says "young, but still dangerous", with the comma.
Players seeking baby dragon bones often choose to fight their blue counterparts as the possibility of red dragons or wild dogs attacking and the need for a hatchet and 875 coins to gain entry to the area deters many players. There are safe spots for rangers and mages, but players may still be attacked by wild dogs. These monsters, like all dragons, are best attacked using ranged attacks.
100% drops
Edit
When you attack the baby red dragon it strikes a pose remarkably similar to Y Ddraig Goch, the dragon on the Welsh Flag.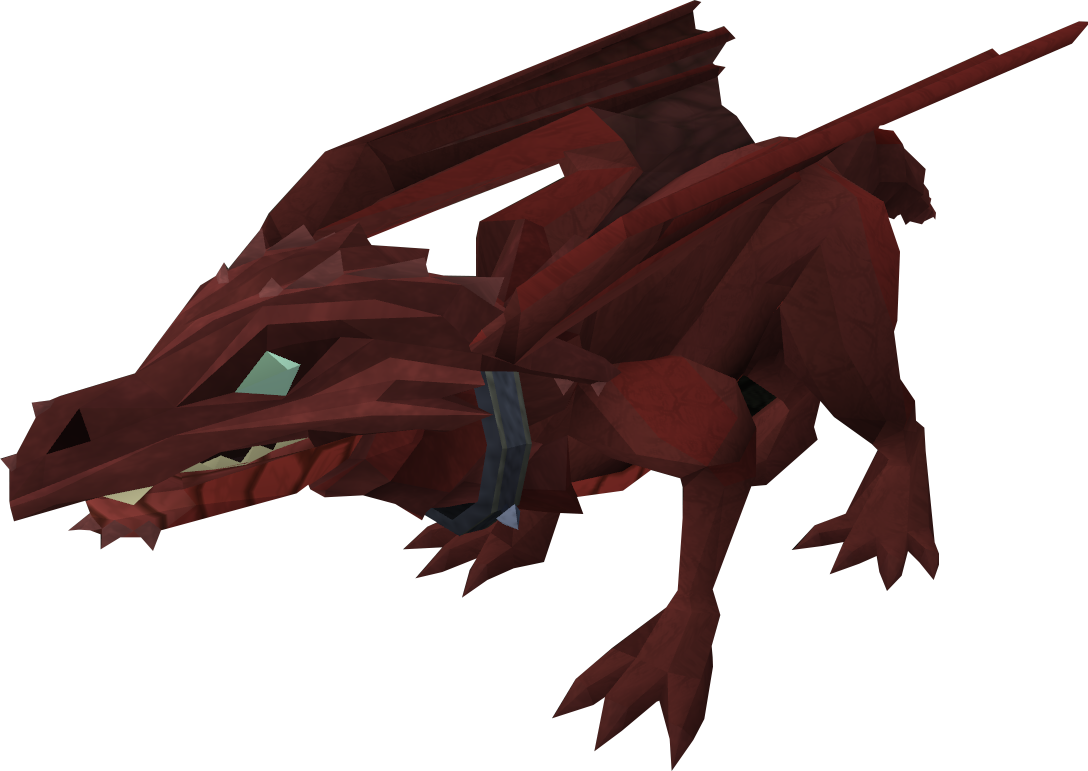 Floors

Spikes • Tentacle pool • Flame pit • Rocnar

Prisons

Oak cage • Oak and steel cage • Steel cage • Spiked cage • Bone cage

Guards

Skeleton • Guard dog • Hobgoblin • Baby red dragon • Huge spider • Troll • Hellhound

Ladders
Decorations
Lighting

Candle • Torch • Skull Torch