Avalani is a mage who can be found at the edge of the Clan Camp, and is responsible for creating a safe passage to the Clan Citadels. She is also notable for causing the chicken appearances all over Gielinor, due to them being used as test subjects for her unfinished portal. Avalani can also be found at the entrance to a Clan Citadel, to give information. She played a central role and was the starting point of the Cryptic Clue Fest III.
Avalani appeared before Clan Citadels were released to pull the chickens out of her left sleeve, and the chickens appear to increase in size shortly after.
The quote "Fly, my pretty, fly!" is a reference to The Wizard of Oz, when the Wicked Witch of the West shouts "Fly my pretties, fly!"
The design on the back of Avalani's robe top is the same design on the sides of the portal.
According to a dialogue between your character and Sir Vyvin, Avalani is a relative of Tim the Wizard, most likely a reference to Tim the Enchanter from the film Monty Python and the Holy Grail.
Avalani is currently one of the two NPCs who has the ability to post on the forums, and the third NPC to even show awareness of (Roddeck and Ican Haz would be the first and second, though Roddeck has yet to use them himself and Ican Haz claims he has spammed the forums but was not spotted anywhere). Wizard Chambers joined this group in 2015.
Avalani was one of the first NPCs to have hands as opposed to spheres.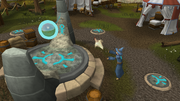 Ad blocker interference detected!
Wikia is a free-to-use site that makes money from advertising. We have a modified experience for viewers using ad blockers

Wikia is not accessible if you've made further modifications. Remove the custom ad blocker rule(s) and the page will load as expected.