Automaton Guardian
Discuss

1
25,202pages
on this wiki
Post-quest During The World Wakes
Automaton Guardian
Release date
4 March 2013 (Update)
Members?
Yes
Combat level
165
XP per kill
1,200.1 (and 396 experience)
Always drops
Nothing
Examine text
A tough melee fighter.
Slayer info
Slayer level
67
Slayer XP
624
Assigned by
Sumona, Duradel or Lapalok, Kuradal
Category
Cres's creations

Combat info
LP
Max hit
20,000
810 / 1,000+ (spec)
Attack
Defence
Ranged
Magic
1
85
1
85
Immune to Poison?
Immune to Stun?
Yes
No
Attack Speed

Speed 4 (Interval: 3.6 seconds)

Aggressive?
Poisonous?
No
No
Attack style
Weakness
Melee

Fire spells

[view]
Automaton Guardian
Release date
4 March 2013 (Update)
Members?
Yes
Combat level
120
XP per kill
404.1 (and 133.3 experience)
Always drops
Nothing
Examine text
A tough melee fighter.

Combat info
LP
Max hit
7,500
Unknown
Attack
Defence
Ranged
Magic
60
60
1
1
Immune to Poison?
Immune to Stun?
Yes
Yes
Attack Speed

Speed 2 (Interval: 4.8 seconds)

Aggressive?
Poisonous?
Yes
No
Attack style
Weakness
Melee

Nothing

[view]

Automaton Guardians are melee-based opponents created by the Guardian of Guthix Cres to protect Guthix's chamber. They can be found in the central room of Guthix's lair after the completion of The World Wakes, The Firemaker's Curse, the Ritual of the Mahjarrat, The Chosen Commander and Branches of Darkmeyer. They require 67 Slayer to be harmed and are known for their various mid-priced stackable drops and their very rare glove drop. Level 80 weaponry or better is strongly recommended; any lower will sharply cut profits. Players should be aware of the monster's special attack, which does a pulsing area of effect damage around the automation at regular intervals, but roots the monster in place (note it can still perform regular auto attacks while the special is active). This can quickly do 1000+ damage if multiple pulses contact with the player. Torment and its equivalent curses significantly increase damage when fighting this monster, as the monster has high combat stats in all areas (Torment provides the correct bonus against its weakness).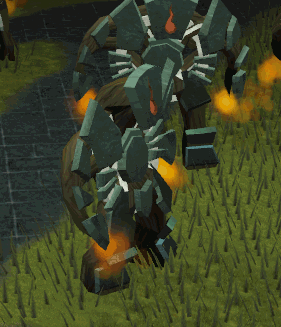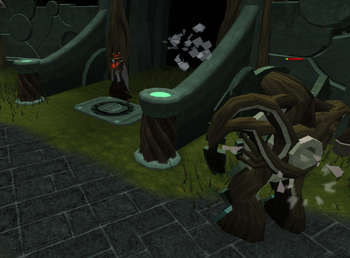 Safe spotting the monster west or east of the middle area (trapping them by the walls dividing of each boss NPC during the quest) is the easiest approach, as the player takes no damage (Void Knight equipment is recommended to take advantage of this). Targeting the monsters then using Impact, Asphyxiate, or a binding spell initially will root them in place for a period of time allowing the player to inflict large amounts of damage before they can approach. Impact will be ready again to bind them by the time the effect wears off effectively allowing safe spotting from anywhere in the room for those comfortable with advance combat mechanics.
Other conveniences include: the quest reward Sixth-Age circuit, providing a quick teleport back to the area and Solomon's General Store pet variants, which automatically loots the plethora of stacking objects. 
Currently, the guardians are the least resource intensive variant due to lack of damage taken. Torment is highly recommended; due to the approximately 30% increase in profit/kills exceeding the cost of prayer dosage.
Herb seeds
Edit
Rare Drop Table
Edit
Universal drops
Edit