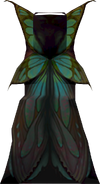 The aurelian cape is a promotional Treasure Hunter prize that is gained from prestiging the butterfly the first time.
It starts with four charges which can be activated once a day to release a butterfly for experience in the players' lowest skill. The amount of experience gained is equal to that gained from catching four Guthixian butterflies. This can be improved by 10% by wearing a butterfly necklace.
Combat Stats
Requirements
None
Class
Slot
None
Tier
None
Weapons
Main
Off
Damage
-
-
Accuracy
-
-
Style
-
Range
-
Attributes
Damage reduction
Armour
0
PvM:

0%

PvP:

0%

Life points
0
Style bonuses
Prayer
0

0

0

0

[FAQ] • [doc]
Aurelian is an archaic word for a lepidopterist, one who is interested in or studies butterflies. The term is derived from aurelia, meaning chrysalis, and relates to the golden colour a chrysalis may attain just before the butterfly emerges.
Flight of the Butterflies

Rewards
Butterfly jars
Ad blocker interference detected!
Wikia is a free-to-use site that makes money from advertising. We have a modified experience for viewers using ad blockers

Wikia is not accessible if you've made further modifications. Remove the custom ad blocker rule(s) and the page will load as expected.