An attuned crystal teleport seed is the attuned version of the crystal teleport seed. It can teleport a player to the elven village of Lletya, the Temple of Light, and each clan district in the elven city of Prifddinas. Players must have access to Prifddinas and also have completed The Eyes of Glouphrie, as well as level 85 Smithing (can be boosted, but not assisted), to create this item by using the singing bowl at the Ithell district while having a depleted crystal teleport seed and 4,000 harmonic dust, giving 4,000 Smithing experience. This item has an unlimited amount of charges. This item can be equipped in the pocket slot.
Teleport locations
Edit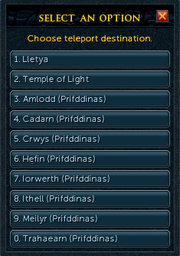 The attuned crystal teleport seed has four right click options. The Prifddinas option opens a dialogue box which allows the player to teleport to any of the eight elf clan districts in the city.
Disassembly
Edit
Ad blocker interference detected!
Wikia is a free-to-use site that makes money from advertising. We have a modified experience for viewers using ad blockers

Wikia is not accessible if you've made further modifications. Remove the custom ad blocker rule(s) and the page will load as expected.