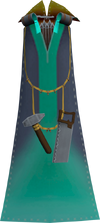 The Artisan's cape is an Expert cape of Accomplishment that shows the wearer has achieved level 99 in multiple related skills. For the Artisan's cape these skills are Cooking, Construction, Crafting, Firemaking, Fletching, Herblore, Runecrafting, and Smithing.
To get the Artisan's cape, players must train any of these skills beyond level 99 in order to gain a skill shard for each skill. Once one shard per skill has been obtained, players can combine them to create an Artisan's cape, and a matching cosmetic hood. The shards required to make the artisan's cape are the roasted, designed, carved, fiery, fletched, herbal, runic, and molten shards.
The Artisan's cape has the same stats as an ordinary skillcape, and is also capable of boosting its associated skills to level 100 for a short period of time.
Combat Stats
Requirements
Tier
99 , , , , , , ,
75
Class
Slot
Attributes
All
Armour
33
Life points
0
Weapons
Main
Off
Prayer
2
Damage
-
-
Damage reduction
Accuracy
-
-
PvM:

0%

PvP:

0%

Style
-
Style bonuses
Range
-

21

21

21

[FAQ] • [doc]
Ad blocker interference detected!
Wikia is a free-to-use site that makes money from advertising. We have a modified experience for viewers using ad blockers

Wikia is not accessible if you've made further modifications. Remove the custom ad blocker rule(s) and the page will load as expected.