Arrow shaft
Discuss

0
22,528pages
on this wiki

Arrow shaft
Release date
25 March 2002 (Update)
Members?
Formerly
Quest item?
No
Tradeable?
Yes
Equipable?
No
Stackable?
Yes
High Alch
7 coins
Low Alch
4 coins
Destroy
Drop
Store price
12 coins
(Dargaud's Bows and Arrows)
Exchange price

15

coins (info)
Buy limit
20,000
Examine
A wooden arrow shaft.
Weight
0 kg
[view]
•
[talk]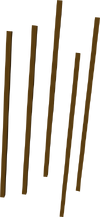 Arrow shafts are used in the making of arrows through the Fletching skill. 15 arrow shafts can be cut from logs at Fletching level 1 by using a knife on them, granting 5 Fletching Experience. 15 feathers can be attached to 15 arrow shafts at Fletching level 1, granting 15 experience, to make headless arrows. Attaching arrowheads to headless arrows will turn them into arrows. Arrowheads cannot be attached to arrow shafts without feathers.
Dropping monsters
Edit
| Monster | Combat level | Quantity | Rarity |
| --- | --- | --- | --- |
| Skeleton | 13,21,142 | | |
Making Money
Edit
An easy way for Members to make money and simultaneously gain fletching and woodcutting experience is to craft and sell arrrow shafts. No minimum fletching or woodcutting level is needed. It is preferable to start this money making journey near a large amount of trees. First, fill your inventory with normal logs by cutting down trees, but leave one space open for the arrow shafts. Then craft all the logs into arrow shafts and repeat the process until you feel like going to the grand exchange.
With one inventory worth of logs, 27 logs and 1 open space for crafting arrow shafts, you can craft 405 arrow shafts, as 1 log makes 15. When sold at the Grand Exchange, they are worth roughly 10 coins per one arrow shaft, so 405 arrow shafts will give you 4050 coins. This process takes under 2 minutes, but the profits can be good for a low level player when you take a couple extra minutes cutting down and crafting several thousand arrow shafts and then making one trip to the Grand Exchange to sell.
Tools

Knife • Sacred clay fletching knife • Volatile clay fletching knife

Strings
Logs

Logs • Oak logs • Willow logs • Maple logs • Achey logs • Yew logs • Magic logs

Unstrung shortbows

Shortbow (u) • Oak shortbow (u) • Willow shortbow (u) • Maple shortbow (u) • Yew shortbow (u) • Magic shortbow (u)

Unstrung shieldbows

shieldbow (u) • Oak shieldbow (u) • Willow shieldbow (u) • Maple shieldbow (u) • Yew shieldbow (u) • Magic shieldbow (u)

Arrows

Arrow shaft • Feathers • Headless arrow • Bronze • Iron • Steel • Mithril • Broad • Adamant • Rune • Dragon

Ogre bows

Ogre arrow shaft • Flighted ogre arrow • Wolfbone arrowheads • Unstrung comp bow

Crossbow stock

Wooden • Oak • Willow • Teak • Maple • Mahogany • Yew • Magic

Crossbow limbs

Bronze • Blurite • Iron • Steel • Mithril • Adamantite • Runite • Dragon

Unstrung crossbows

Bronze • Blurite • Iron • Steel • Mithril • Adamant • Runite • Dragon

Bolts

Bronze bolts (unf) • • Blurite bolts (unf) • Silver bolts (unf) • Iron bolts (unf) • Steel bolts (unf) • Mithril bolts (unf) • Adamant bolts (unf) • Runite bolts (unf) • Abyssalbane bolts (unf) • Basiliskbane bolts (unf) • Dragonbane bolts (unf) • Wallasalkibane bolts (unf)

Gem bolt tips

Opal • Jade • Pearl • Red topaz • Sapphire • Emerald • Ruby • Diamond • Dragonstone • Onyx

Darts
Scrimshaws

Log-splitting scrimshaw (superior) • Rock-crushing scrimshaw (superior) • Tree-shaking scrimshaw (superior) • Gem-finding scrimshaw (superior) • Scrimshaw of vampyrism (superior) • Scrimshaw of strength (superior) • Scrimshaw of the elements (superior) • Scrimshaw of magic (superior) • Scrimshaw of cruelty (superior) • Scrimshaw of ranging (superior)

Others

Blisterwood stake • Blisterwood polearm • Blisterwood staff • Bakriminel bolt shafts • Bakriminel bolt tips