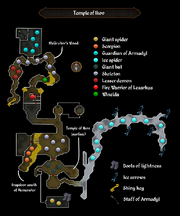 The Armadyl pendant is obtained during the Temple of Ikov quest if the player decides to side with the Guardians of Armadyl. After the quest it can be retrieved by talking to them. Players who sided with Lucien can obtain it by killing the Guardians after the quest. Players can obtain multiple Pendants easily by performing the drop trick. This pendant is by far the most easily obtainable protection against followers of Armadyl in the God Wars Dungeon.
Combat Stats
Requirements
Tier
None
None
Class
Slot
Attributes
None
Armour
0
Life points
0
Weapons
Main
Off
Prayer
0
Damage
-
-
Damage reduction
Accuracy
-
-
PvM:

0%

PvP:

0%

Style
-
Style bonuses
Range
-

0

0

0

[FAQ] • [doc]
Drop sources
Edit
This list was created dynamically. For help, see the FAQ.
To force an update of this list, click here.
For an exhaustive list of all known sources for this item, see here.
The pendant of lucien and the Armadyl pendant look almost identical; however, the pendant of lucien's middle gem is green, whereas the Armadyl pendant's gem is silver. For females, both pendants have an identical red gem.
The examine text is joking at the fact that you receive the pendant of Lucien at the beginning of the quest, and then you receive another pendant later on (if you sided with the Armadyl Guardians).
Ad blocker interference detected!
Wikia is a free-to-use site that makes money from advertising. We have a modified experience for viewers using ad blockers

Wikia is not accessible if you've made further modifications. Remove the custom ad blocker rule(s) and the page will load as expected.