Armadyl crossbow
Discuss

8
22,528pages
on this wiki

The Armadyl crossbow was added together with the update of the God Wars Dungeon on 5 September 2012. A ranged level of 70 is required to wield this weapon. It can fire bolts up to rune. This weapon is dropped by Commander Zilyana and her minions in the God Wars Dungeon. The Armadyl crossbow is the 4th most accurate crossbow in the game surpassed by only the Chaotic crossbow, Royal crossbow, and the Dominion crossbow, and is the most accurate non-degradable crossbow in the game.
Combat Stats

| Class | Slot |
| --- | --- |
| Unknown edit | |

Weapons
Main
Off
Damage
-
-
Accuracy
-
-
Type
-
-
Attributes
Armour rating

0

Life bonus

+0

Prayer bonus

+1

Critical bonuses

0%

0%

0%

Compare item

A player wielding an armadyl crossbow

[view] • [talk]
Dropping monsters
Trivia
The Armadyl Crossbow is the only crossbow in the game to give a positive Prayer bonus.
In the inventory icon, the crossbow appears to be missing its bowstring.
Surprisingly, the Armadyl Crossbow does not protect against any faction in the God Wars Dungeon, a trait it shares with all three of the Saradomin amulets. It is unknown if this is a glitch.

This could be because Armadyl's minions now associate it with Saradomin, but this doesn't explain why it doesn't protect against the Saradomin faction.

On the day of release, it stated in the grand exchange that it only fired bolts up to bronze. This has now been fixed.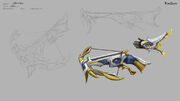 Godswords

Armadyl • Bandos • Saradomin • Zamorak

Robes of subjugation
Armadyl armour

Helmet • Chestplate • Chainskirt • Gloves • Boots • Buckler

Bandos armour
Torva armour
Pernix armour
Virtus armour
Ancient ceremonial robes
Frozen key

Frozen key • Armadyl • Bandos • Saradomin • Zamorak

Weapons

Saradomin sword • Zamorakian spear • Armadyl crossbow • Steam battlestaff • Zaryte bow • Virtus wand • Book

Amulets
Books

Armadyl's assault • Zilyana's notes • The glory of general graardor • Nex's followers • Razulei's tale

Soulstones

Armadylean soulstone • Bandosian soulstone • Saradominist soulstone • Zamorakian soulstone