Armadyl crossbow
Discuss

8
22,498pages
on this wiki

The Armadyl crossbow was added together with the update of the God Wars Dungeon on 5 September 2012. A ranged level of 70 is required to wield this weapon. It can fire bolts up to and including Diamond Bolts. This weapon is dropped by Commander Zilyana and her minions in the God Wars Dungeon. The Armadyl crossbow is tied with Karil's Pistol Crossbow for second most accurate one-handed crossbow in the game surpassed by only the Chaotic crossbow.
Combat Stats

| Class | Slot |
| --- | --- |
| Ranged | |

Weapons
Main
Off
Damage
-
-
Accuracy
1486
-
Type
Bolt
-
Attributes
Armour rating

0

Life bonus

+0

Prayer bonus

1

Critical bonuses

0%

0%

0%

Attack speed

Fastest

Interval: 2.4 seconds

Compare item

A player wielding an armadyl crossbow

[view] • [talk]
Dropping monsters
Edit
On the day of release, the Grand Exchange stated that it only fired bolts up to bronze. This has since been fixed.
The Armadyl Crossbow appears to be held incorrectly as the handle to the crossbow can be seen. This seems to be the only crossbow held like this.
As per the examine text, this item is dropped by Saradomin's general in the God Wars Dungeon, and not by Armadyl's general.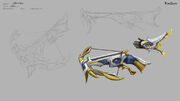 Godswords

Armadyl • Bandos • Saradomin • Zamorak

Robes of subjugation
Armadyl armour

Helmet • Chestplate • Chainskirt • Gloves • Boots • Buckler

Bandos armour
Torva armour
Pernix armour
Virtus armour
Ancient ceremonial robes
Frozen key

Frozen key • Armadyl • Bandos • Saradomin • Zamorak

Weapons

Saradomin sword • Zamorakian spear • Armadyl crossbow • Steam battlestaff • Zaryte bow • Virtus wand • Book

Amulets
Books

Armadyl's assault • Zilyana's notes • The glory of general graardor • Nex's followers • Razulei's tale

Soulstones

Armadylean soulstone • Bandosian soulstone • Saradominist soulstone • Zamorakian soulstone
Main-hand crossbows

Bronze • Blurite • Iron • Steel • Black • Mithril • Adamant • Rune • Demon slayer • Dragon

Off-hand metal crossbows

Bronze • Iron • Steel • Mithril • Adamant • Rune • Demon slayer • Dragon

Two-handed crossbows
Unstrung crossbows

Bronze • Blurite • Iron • Steel • Mithril • Adamant • Runite • Dragon

Crossbow limbs

Bronze • Blurite • Iron • Steel • Mithril • Adamantite • Runite • Dragon

Crossbow stock

Wooden • Oak • Willow • Teak • Maple • Mahogany • Yew • Magic

Other crossbows

Crossbow • Phoenix • Coral • Dorgeshuun • Zanik's • Hunters' • Karil'sPistol, Off-hand pistol • Armadyl • Chaotic Off-hand• Royal • Dominion