The Armadyl crossbow is a one-handed crossbow that requires 75 Ranged to wield. It was released with the God Wars Dungeon update in 2012, alongside other items such as the amulets of Saradomin. It is dropped by Commander Zilyana and her minions.
The Armadyl crossbow used to be equally strong as Karil's crossbow, but on 26 May 2015 it was buffed to level 75, matching other weapons from the Dungeon. An off-hand counterpart was also added to the game.
When received with CoinShare active, the Armadyl crossbow will be dropped as 120 Armadyl crossbow shards split evenly among the players and sent directly to their banks. 120 shards can be combined to create this item.
Combat Stats
Requirements
75
Class
Slot
Ranged
Tier
75
Weapons
Main
Off
Damage
-
-
Accuracy
1694
-
Style
Bolts
Range
7
Speed

Fastest (2.4s)

Attributes
Damage reduction
Armour
0
PvM:

0%

PvP:

0%

Life points
0
Style bonuses
Prayer
1

0

0

0

[FAQ] • [doc]
Disassembly
Edit
Drop sources
Edit
This list was created dynamically. For help, see the FAQ.
To force an update of this list, click here.
For an exhaustive list of all known sources for this item, see here.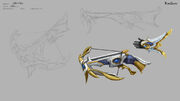 Main-hand
Off-hand
Two-handed
Promotional
Dyed ascension crossbows
Ad blocker interference detected!
Wikia is a free-to-use site that makes money from advertising. We have a modified experience for viewers using ad blockers

Wikia is not accessible if you've made further modifications. Remove the custom ad blocker rule(s) and the page will load as expected.