Armadyl Tuska spear
Release date
1 June 2015 (Update)
Members
No
Slot
2H
Equipment
Melee
Recolourable
No
This cosmetic will not display
in PvP-enabled areas.
[view] • [talk]
Armadyl Tuska spear is a cosmetic override from the Anima Islands D&D. It costs 1,000 Reward Currency to unlock.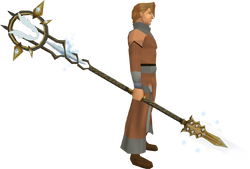 Originally this was available from the Tuska Comes world event.
NPCs
Combatants
Resources
Rewards
Locations
Music
Related