Armadyl helmet
Discuss

6
22,530pages
on this wiki
Not to be confused with an Armadyl full helm.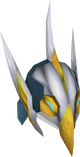 The Armadyl helmet is a drop that can be obtained from the God Wars Dungeon that requires 70 Defence to wear. It, along with the Armadyl chestplate and Armadyl chainskirt, is part of the Armadyl armour set.
The helmet has the fourth highest defence bonuses for a range helm, beaten only by Morrigan's coif, Pernix cowl and death lotus hood, and is the best non-degradable range helm. However, a Focus sight or a Full slayer helmet are still preferable for those training Slayer.
With 60 Summoning (along with 70 Ranged and 70 Defence), players may have the helmet enchanted by Pikkupstix to give it the ability to store 120 Summoning scrolls. Once enchanted, the helmet will also turn white. Players may also have the helmet disenchanted at any time by speaking to Pikkupstix again.
Combat Stats

| Class | Slot |
| --- | --- |
| Ranged | |

Weapons
Main
Off
Damage
13
-
Accuracy
-
-
Type
-
-
Attributes
Armour rating

259

Life bonus

+720

Prayer bonus

1

Critical bonuses

0%

0%

0%

Compare item

A male player wearing an armadyl helmet

A female player wearing an armadyl helmet

[view] • [talk]
Dropping monsters
Edit
The original female version of the helmet looked similar to the Granite helm, shaped similarly to an owl. Both models have since been updated on 7 March 2012.

Leather cowl •

Focus sight •

Coif •

Carapace •

Snakeskin •

Green d'hide •

Archer helm •

Ranger hat •

Robin hood hat •

Sacred clay coif •

Spined helm •

Blue d'hide •

Red d'hide •

Black d'hide •

Royal d'hide •

Blessed d'hide •
Third-age •

Karil's •

Armadyl helmet •

Morrigan's (corrupt) •

Pernix cowl •

Death lotus hood (sup)
Headgear

Leather cowl • Focus sight • Coif • Carapace • Snakeskin • Green d'hide • Archer helm • Ranger hat • Robin hood hat • Sacred clay coif • Spined helm • Blue d'hide • Red d'hide • Black d'hide • Blessed d'hide • Royal d'hide • Third-age • Karil's • Armadyl helmet • Morrigan's (corrupt) • Pernix cowl • Death lotus hood (sup)

Body

Leather • Hard leather • Studded(t)(g) • Frog-leather • Carapace • Snakeskin • Green d'hide(t)(g) • Spined • Sacred clay • Blue d'hide(t)(g) • Red d'hide • Black d'hide • Blessed d'hide • Royal d'hide • Third-age • Karil's • Armadyl • Morrigan's (corrupt) • Pernix • Death lotus chestplate (sup)

Legs

Leather • Studded(t)(g) • Frog-leather • Carapace • Snakeskin • Green d'hide(t)(g) • Spined • Sacred clay • Blue d'hide(t)(g) • Red d'hide • Black d'hide • Blessed d'hide • Royal d'hide • Third-age • Karil's • Armadyl • Morrigan's (corrupt) • Pernix • Death lotus chaps (sup)

Shields

Leather shield • Hard leather shield • Studded leather shield • Green d'hide shield • Blue d'hide shield • Red d'hide shield • Black d'hide shield • Dragonfire shield (ranged) • Armadyl buckler • Elysian shield • Eagle-eye shield

Vambraces

Leather gloves • Leather vambraces (spiky) • Hard leather • Studded leather • Carapace • Snakeskin • Green d'hide (spiky) • Spined • Blue d'hide (spiky) • Red d'hide (spiky) • Black d'hide (spiky) • Blessed • Third age • Royal d'hide (spiky) • Armadyl • Mercenary's • Swift • Pernix • Tracking gloves

Footwear

Leather • Hard leather • Studded leather • Frog-leather • Carapace • Snakeskin • Ranger boots • Spined boots • Armadyl boots •Pernix boots • Glaiven boots

Cape

Arrowstorm drape • Ava's attractor • Ava's accumulator • Ava's alerter • Max cape • Completionist cape

Neck

Amulet of accuracy • Amulet of power • Amulet of glory • Amulet of fury • Amulet of ranging • Saradomin's murmur
Godswords

Armadyl • Bandos • Saradomin • Zamorak

Robes of subjugation
Armadyl armour

Helmet • Chestplate • Chainskirt • Gloves • Boots • Buckler

Bandos armour
Torva armour
Pernix armour
Virtus armour
Ancient ceremonial robes
Frozen key

Frozen key • Armadyl • Bandos • Saradomin • Zamorak

Weapons

Saradomin sword • Zamorakian spear • Armadyl crossbow • Steam battlestaff • Zaryte bow • Virtus wand • Book

Amulets
Books

Armadyl's assault • Zilyana's notes • The glory of general graardor • Nex's followers • Razulei's tale

Soulstones

Armadylean soulstone • Bandosian soulstone • Saradominist soulstone • Zamorakian soulstone