Ariane is one of the seven Signature Heroes first announced in the Development Diary "Who are the Signature Heroes?" Not much is yet known about Ariane, though it is known that she will appear in a future quest.[1] She makes her first appearance, along with two other Signature Heroes, Sir Owen and Ozan (the master smith Linza is also mentioned), in the Fremennik Saga Three's Company. Ariane appears to be a powerful magic user. She also seems to be the Mage shown in the login screen.

Ariane introduces herself.
(
link
)
Personality
Ariane is a free-spirit intellect, she does not follow the superstitions of most Wizards of not exploring outside their comfort zone of a spellbook. She believes that knowledge should be explored and used to make the world a better place. She is determined to discover all the magical secrets of Gielinor, and to use them to make Gielinor a better place. [1]
She also seems to have a split personality, as during the Fremennik Sagas Three's Company, she literally spoke to herself, then responded. This may have been simply humour, or an actual trait.
Capabilities
Ariane is capable of precognition, having been raised in Seers' Village. She has at least dabbled in nearly every type of magic on Gielinor.
In the Fremennik Saga Three's Company, she is shown to have at least level 35 Magic and level 19 Summoning. She is also shown to have a Constitution level of 30. In addition, she has at least level 50 Runecrafting.
When the player encounters Ariane in the Taverly Slayer Dungeon, the pair end up defeating the troll shaman, Magic Stick . After the fight she teleports away using a Ancient Magics teleport, indicating she has completed Desert Treasure and has at least 54 Magic.
She does not have high agility or strength levels, and has lower than level 50 Mining.
History
Ariane was born and raised in Seers' Village. She has studied at the Wizards Tower and Wizards' Guild, and she has been to almost every school of magic.
RuneScape cinematic trailer
Ariane plays a part in the RuneScape cinementic trailer that could be watched here.
The trailer opens in the druidic city of Taverley, where Sir Owen and Ariane are talking on a balcony while Ozan wanders past a couple of girls in the street below.
Suddenly, a gigantic troll appears and wrecks havoc before charging straight at Ozan, who dodges the first swing of the troll's enormous axe, but the scene changes to an Ozan's flashback when he couldn't evade the second strike.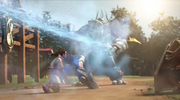 The Raptor saves Ozan by slamming into the troll's axe shield-first. As the troll attempts to grab him, Sir Owen leaps off the balcony railing and smashes its right arm to little effect, and is shoved aside into a pillar. Ariane seizes her chance and hit it with a continuous stream of ice, freezing it solid. Ozan then shoots an arrow into the creature's chest, shattering it into blocks of frozen troll.
After the RuneScape icon appears and disappears, three more trolls are seen charging.
Locations
Ariane can be found in many places throughout RuneScape.
Roaming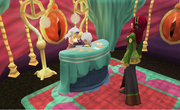 Ariane will often teleport in and out of various locations. Places she has been seen roaming include:
Fixed
Places that the player can find Ariane at any time include:
One-Time
Some places Ariane will appear only once, or until the player speaks to her for the first time. These places include:
Quest and Miniquest Appearances
The first quest or miniquest to feature Ariane is in the Fremennik Saga Three's Company, where she is a Playable character. She also plays a role in the Burthorpe tutorial, where she explains what Gelatinous abominations are and helps you defeat the Troll shaman Magic Stick.
Dialogue
Trivia
The homepage background that features Ariane, Ozan and Sir Owen was released one and a half months before they were announced.
When clicking on an advertisement for RuneScape, there is also an image of Ariane.
In the loading screen there is a picture of her fighting a horde of Armoured Zombies.
Previously, during Three's Company, her magic level was supposedly not high enough to autocast fire bolt and it was blacked out on her magic tab, although it could still be manually cast.
Also during Three's Company, she would sometimes cast two magic attacks in quick succession. It is unknown whether this is a glitch.
When she teleports herself or others, she uses a different animation, which is a purple form of the standard spellbook teleports.
When spoken to she contemplates how both modern and ancient spell books may be combined without the need to visit the ancient altar. Perhaps a hint at a future quest or quest reward.
Gallery
References