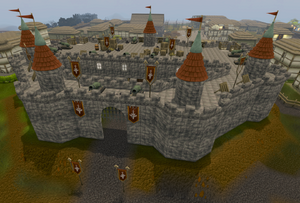 Ardougne Castle is a castle in East Ardougne near the border to West Ardougne. King Lathas, was king of Kandarin until Plague's End, after this quest transpires he will be replaced by his cousin, King Thoros, who resides on the 1st2nd floor[UK]. Players can start the Underground Pass here. Aside from the king, many Paladins wander the area around it.
Part 9 of the Elf quest series
NPCs
Enemies
Items
Rewards
Locations
Ardougne Castle
Music
Miscellaneous
Ad blocker interference detected!
Wikia is a free-to-use site that makes money from advertising. We have a modified experience for viewers using ad blockers

Wikia is not accessible if you've made further modifications. Remove the custom ad blocker rule(s) and the page will load as expected.