Archer helm
Discuss

0
22,503pages
on this wiki
This article is about the item called Archer helm. For other Fremennik helmets, see
Fremennik helmets
.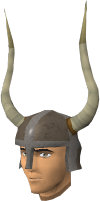 Archer helms can be bought from the Rellekka Helmet shop for 78,000 coins after completing the Fremennik Trials quest. To wear the helm, 45 Defence and completion of the Fremennik Trials are required. .
With the second Summoning update, a player with level 35 Summoning can have Pikkupstix in Taverley enchant the helm; at which point it becomes an archer helm (e) and can hold up to 70 scrolls. When charged, it takes on a lighter colour and becomes an archer helm (charged).

Combat Stats

| Class | Slot |
| --- | --- |
| Ranged | |

Weapons
Main
Off
Damage
-
-
Accuracy
-
-
Type
-
-
Attributes
Armour rating

146

Life bonus

+540

Prayer bonus

0

Critical bonuses

0%

0%

0%

Compare item

A player wearing an archer helm

A player wearing an enchanted archer helm

[view] • [talk]
Dropping monsters
Edit
The horns on the archer helm look bigger on a female player than on a male player. It is unknown if this is a glitch or not.
Yak hide armour
Rock-shell armour
Spined armour
Skeletal armour
Rings

Warrior ring (imbued) • Berserker ring (imbued) • Seers' ring (imbued) • Archers' ring (imbued)

Helms

Fremennik • Archer • Warrior • Farseer • Berserker • Helm of neitiznot

Others

Fremennik blade • Fremennik shield • Fremennik cloak • Gloves (Fremennik) • Round shield • Balmung

Leather cowl •

Focus sight •

Coif •

Carapace •

Snakeskin •

Green d'hide •

Archer helm •

Ranger hat •

Robin hood hat •

Sacred clay coif •

Spined helm •

Blue d'hide •

Red d'hide •

Black d'hide •

Royal d'hide •

Blessed d'hide •
Third-age •

Karil's •

Armadyl helmet •

Morrigan's (corrupt) •

Pernix cowl •

Death lotus hood (sup)
Headgear

Leather cowl • Focus sight • Coif • Carapace • Snakeskin • Green d'hide • Archer helm • Ranger hat • Robin hood hat • Sacred clay coif • Spined helm • Blue d'hide • Red d'hide • Black d'hide • Blessed d'hide • Royal d'hide • Third-age • Karil's • Armadyl helmet • Morrigan's (corrupt) • Pernix cowl • Death lotus hood (sup)

Body

Leather • Hardleather • Studded(t)(g) • Frog-leather • Carapace • Snakeskin • Green d'hide(t)(g) • Spined • Sacred clay • Blue d'hide(t)(g) • Red d'hide • Black d'hide • Blessed d'hide • Royal d'hide • Third-age • Karil's • Armadyl • Morrigan's (corrupt) • Pernix • Death lotus chestplate (sup)

Legs

Leather • Studded(t)(g) • Frog-leather • Carapace • Snakeskin • Green d'hide(t)(g) • Spined • Sacred clay • Blue d'hide(t)(g) • Red d'hide • Black d'hide • Blessed d'hide • Royal d'hide • Third-age • Karil's • Armadyl • Morrigan's (corrupt) • Pernix • Death lotus chaps (sup)

Shields

Leather shield • Hard leather shield • Studded leather shield • Green d'hide shield • Blue d'hide shield • Red d'hide shield • Black d'hide shield • Dragonfire shield (ranged) • Armadyl buckler • Elysian shield • Eagle-eye shield

Vambraces

Leather gloves • Leather vambraces (spiky) • Hard leather • Studded leather • Carapace • Snakeskin • Green d'hide (spiky) • Spined • Blue d'hide (spiky) • Red d'hide (spiky) • Black d'hide (spiky) • Blessed • Third age • Royal d'hide (spiky) • Armadyl • Mercenary's • Swift • Pernix • Tracking gloves

Footwear

Leather • Hard leather • Studded leather • Frog-leather • Carapace • Snakeskin • Ranger boots • Spined boots • Armadyl boots •Pernix boots • Glaiven boots

Cape

Arrowstorm drape • Ava's attractor • Ava's accumulator • Ava's alerter • Max cape • Completionist cape

Neck

Amulet of accuracy • Amulet of power • Amulet of glory • Amulet of fury • Amulet of ranging • Saradomin's murmur