Antique lamp
Discuss

7
27,996pages on
this wiki

Antique lamps (referred to as Magic lamps in tasks) are rewards from miniquests, quests and tasks. Like regular lamps, these lamps grant a player experience in a chosen skill, and the skill chosen must usually be over a certain level which is unboostable. The 500 experience lamp given from Myths of the White Lands does not require a level. All lamps except the one from Recipe for Disaster cannot be banked.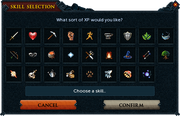 Magic lamps
Edit
Antique lamps
Edit
Varrock Museum: 5 antique lamps:

One as a possible reward from cleaning: 500xp in a skill of at least level 10
Three from giving information about quests: 1,000xp in a skill of at least level 20
One from having told Historian Minas about all the quests: 10,000 in a skill of at least level 50

Myths of the White Lands: A 500 experience lamp is awarded from Explorer Jack as a quest reward.
Fairy Tale II - Cure a Queen awards one antique lamp granting 2500 experience.