Ad blocker interference detected!
Wikia is a free-to-use site that makes money from advertising. We have a modified experience for viewers using ad blockers

Wikia is not accessible if you've made further modifications. Remove the custom ad blocker rule(s) and the page will load as expected.

Antique lamps (referred to as Magic lamps in tasks) are rewards from miniquests, quests, and tasks. Like regular lamps, these lamps grant a player experience in a chosen skill, and the skill chosen must usually be over a certain level which is unboostable. The 500 experience lamp given from Myths of the White Lands does not require a level. All lamps except the one from Recipe for Disaster cannot be banked.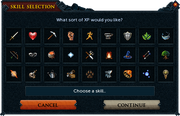 List of antique lamps
Edit
| | Obtained | Article | XP | Level | Amount | Notes |
| --- | --- | --- | --- | --- | --- | --- |
| | A Tail of Two Cats | Antique lamp (A Tail of Two Cats) | 2500 | 30 | 2 | |
| | Ancient Effigies | Antique lamp (Ancient effigies) | 5000 | 50 | | |
| | Ardougne Tasks (easy) | Antique lamp (Easy Ardougne Tasks) | 1000 | 25 | | |
| | Ardougne Tasks (elite) | Antique lamp (Elite Ardougne Tasks) | 50000 | 85 | 4 | |
| | Ardougne Tasks (hard) | Antique lamp (Hard Ardougne Tasks) | 28000 | 60 | | |
| | Ardougne Tasks (medium) | Antique lamp (Medium Ardougne Tasks) | 7500 | 45 | | |
| | Daemonheim Tasks (easy) | Antique lamp (Easy Daemonheim Tasks) | 2000 | 23 | | |
| | Daemonheim Tasks (elite) | Antique lamp (Elite Daemonheim Tasks, 50k) | 50000 | 90 | 3 | |
| | Daemonheim Tasks (elite) | Antique lamp (Elite Daemonheim Tasks, 60k) | 60000 | 98 | | |
| | Daemonheim Tasks (hard) | Antique lamp (Hard Daemonheim Tasks) | 20000 | 74 | | |
| | Daemonheim Tasks (medium) | Antique lamp (Medium Daemonheim Tasks) | 8000 | 41 | | |
| | Desert Tasks (easy) | Antique lamp (Easy Desert Tasks) | 2000 | 29 | | |
| | Desert Tasks (elite) | Antique lamp (Elite Desert Tasks, 30k) | 30000 | 77 | 2 | |
| | Desert Tasks (elite) | Antique lamp (Elite Desert Tasks, 50k) | 50000 | 93 | 2 | |
| | Desert Tasks (hard) | Antique lamp (Hard Desert Tasks) | 20000 | ?? | | |
| | Desert Tasks (medium) | Antique lamp (Medium Desert Tasks) | 8000 | 43 | | |
| | Falador Tasks (easy) | Antique lamp (Easy Falador Tasks) | 1000 | 30 | | |
| | Falador Tasks (elite) | Antique lamp (Elite Falador Tasks, 30k) | 30000 | 90 | 2 | |
| | Falador Tasks (elite) | Antique lamp (Elite Falador Tasks, 50k, level 72) | 50000 | 72 | | |
| | Falador Tasks (elite) | Antique lamp (Elite Falador Tasks, 50k, level 84) | 50000 | 84 | | |
| | Falador Tasks (hard) | Antique lamp (Hard Falador Tasks) | 10000 | 50 | | |
| | Falador Tasks (medium) | Antique lamp (Medium Falador Tasks) | 5000 | 40 | | |
| | Fight Cauldron | Antique lamp (Fight Cauldron) | 20000 | | | in combat skill |
| | Fremennik Tasks (easy) | Antique lamp (Easy Fremennik Tasks) | 5000 | 30 | | |
| | Fremennik Tasks (elite) | Antique lamp (Elite Fremennik Tasks, 30k) | 30000 | 86 | 4 | |
| | Fremennik Tasks (elite) | Antique lamp (Elite Fremennik Tasks, 40k) | 40000 | 89 | | |
| | Fremennik Tasks (hard) | Antique lamp (Hard Fremennik Tasks) | 15000 | 50 | | |
| | Fremennik Tasks (medium) | Antique lamp (Medium Fremennik Tasks) | 10000 | 40 | | |
| | Glorious Memories | Antique lamp (Glorious Memories) | 2500 | 35 | | |
| | Gunnar's Ground | Antique lamp (Gunnar's Ground) | 200 | 5 | | |
| | Jobs | Antique lamp (Jobs) | | | | 25 times level |
| | Karamja Tasks (easy) | Antique lamp (Easy Karamja Tasks) | 1000 | 30 | | |
| | Karamja Tasks (elite) | Antique lamp (Elite Karamja Tasks, 30k) | 30000 | 64 | | |
| | Karamja Tasks (elite) | Antique lamp (Elite Karamja Tasks, 55k) | 55000 | 87 | 2 | |
| | Karamja Tasks (hard) | Antique lamp (Hard Karamja Tasks) | 10000 | 50 | | |
| | Karamja Tasks (medium) | Antique lamp (Medium Karamja Tasks) | 5000 | 40 | | |
| | King's Ransom | Antique lamp (King's Ransom) | 5000 | 50 | | |
| | Koschei's Troubles | Antique lamp (Koschei's Troubles) | 30000 | 75 | | |
| | Learning the Ropes | Antique lamp (Learning the Ropes) | 250 | | | skill of choice used while helping Sir Vant |
| | Lumbridge Tasks (beginner) | Antique lamp (Beginner Lumbridge Tasks) | 500 | 1 | | |
| | Lumbridge Tasks (easy) | Antique lamp (Easy Lumbridge Tasks) | 1000 | 30 | | |
| | Lumbridge Tasks (hard) | Antique lamp (Hard Lumbridge Tasks) | 9000 | 49 | | |
| | Lumbridge Tasks (medium) | Antique lamp (Medium Lumbridge Tasks) | 1500 | 35 | | |
| | Missing, Presumed Death | Antique lamp (Missing, Presumed Death) | 30000 | 75 | | |
| | Morytania Tasks (easy) | Antique lamp (Easy Morytania Tasks) | 4000 | 25 | | |
| | Morytania Tasks (elite) | Antique lamp (Elite Morytania Tasks, 40k) | 40000 | 75 | | |
| | Morytania Tasks (elite) | Antique lamp (Elite Morytania Tasks, 50k) | 50000 | 80 | 2 | |
| | Morytania Tasks (hard) | Antique lamp (Hard Morytania Tasks) | 20000 | 65 | | |
| | Morytania Tasks (medium) | Antique lamp (Medium Morytania Tasks) | 10000 | 46 | | |
| | One Small Favour | Antique lamp (One Small Favour) | 10000 | 30 | 2 | |
| | Stronghold of Player Safety | Antique lamp (Misthalin Training Centre of Excellence) | 500 | 1 | 2 | |
| | Recipe for Disaster | Antique lamp (Recipe for Disaster) | 20000 | 50 | | |
| | Seers' Tasks (easy) | Antique lamp (Easy Seers' Village Tasks) | 1000 | 30 | | |
| | Seers' Tasks (elite) | Antique lamp (Elite Seers' Village Tasks, 25k) | 25000 | 70 | | |
| | Seers' Tasks (elite) | Antique lamp (Elite Seers' Village Tasks, 30k) | 30000 | 83 | 4 | |
| | Seers' Tasks (hard) | Antique lamp (Hard Seers' Village Tasks) | 10000 | 50 | | |
| | Seers' Tasks (medium) | Antique lamp (Medium Seers' Village Tasks) | 5000 | 40 | | |
| | The Brink of Extinction | Antique lamp (The Brink of Extinction) | 275000 | 80 | | Attack, Strength, Defence, Magic, Ranged |
| | The Elder Kiln | Antique lamp (The Elder Kiln) | 100000 | 75 | | Attack, Strength, Defence, Magic, Ranged |
| | The Tale of the Muspah | Antique lamp (The Tale of the Muspah) | 200 | 10 | | |
| | Tirannwn Tasks (easy) | Antique lamp (Easy Tirannwn Tasks) | 10000 | 47 | | |
| | Tirannwn Tasks (elite) | Antique lamp (Elite Tirannwn Tasks, 40k) | 40000 | 95 | | |
| | Tirannwn Tasks (elite) | Antique lamp (Elite Tirannwn Tasks, 60k) | 60000 | 95 | 2 | |
| | Tirannwn Tasks (hard) | Antique lamp (Hard Tirannwn Tasks) | 40000 | 78 | | |
| | Tirannwn Tasks (medium) | Antique lamp (Medium Tirannwn Tasks) | 30000 | 68 | | |
| | Varrock Museum (cleaning) | Antique lamp (Varrock Museum) | 500 | 10 | | |
| | Historian Minas | Antique lamp (Historian Minas) | 10000 | 50 | | |
| | Varrock Museum (Kudos) | Antique lamp (Kudos) | 1000 | 20 | 3 | |
| | Varrock Tasks (easy) | Antique lamp (Easy Varrock Tasks) | 1000 | 30 | | |
| | Varrock Tasks (elite) | Antique lamp (Elite Varrock Tasks, 30k) | 30000 | 65 | | |
| | Varrock Tasks (elite) | Antique lamp (Elite Varrock Tasks, 40k) | 40000 | 88 | 3 | |
| | Varrock Tasks (hard) | Antique lamp (Hard Varrock Tasks) | 10000 | 50 | | |
| | Varrock Tasks (medium) | Antique lamp (Medium Varrock Tasks) | 5000 | 40 | | |
| | Wilderness Tasks (easy) | Antique lamp (Easy Wilderness Tasks) | 10000 | 30 | 2 | |
| | Wilderness Tasks (elite) | Antique lamp (Elite Wilderness Tasks) | 95000 | 85 | 2 | |
| | Wilderness Tasks (hard) | Antique lamp (Hard Wilderness Tasks) | 77000 | 67 | 2 | |
| | Wilderness Tasks (medium) | Antique lamp (Medium Varrock Tasks) | 40000 | 52 | 2 | |
Squeal of Fortune and Treasure Hunter

Prismatic
Smouldering
Lamp of the Djinn
Christmas 2014
 Glowing
 Big glowing
Miscellaneous
 Farming XP
Quest related

Broken Home
The Death of Chivalry
Diamond in the Rough
 Combat XP
 Constitution XP
Dimension of Disaster
Dishonour among Thieves
Fate of the Gods
 Large prismatic
 Survivor's
Heart of Stone
The Light Within
Missing, Presumed Death
One of a Kind
Plague's End
A Shadow over Ashdale
Stolen Hearts
The Temple at Senntisten
 Combat
 Experience
The Mighty Fall
 50k XP
 75k XP
The World Wakes
Nomad's Elegy
Kindred Spirits
Gower Quest
 Ian's
 Andrew's
 Paul's
Antique and task sets

Easy task sets
Medium task sets
Hard task sets
Elite task sets
Meg (Player-owned port)

Small
Medium
Large
Huge
Miscellaneous

2015 Easter event
 Medium
 Huge
Battle of Lumbridge
Big Cats
 Small
 Medium
The Bird and the Beast
Broken Home
 Large
 Huge
Court Cases
 Attack XP
 Combat XP
 Defence XP
Events
Lumbridge Rebuildathon
 Small
 Medium
 Large
NIS lamp
 Small
 Medium
 Large
RuneScape Road Trip
 Large explorer's (2015)
Sinkholes
Tuska Comes
Up to Snow Good
 Small
 Large
Zodiac Training
Lucky challenge
Prifddinas
The Arc