Anti-dragon shield (Dungeoneering)
Discuss

0
22,486pages
on this wiki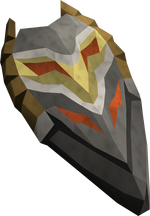 The Anti-dragon shield (Dungeoneering) is an alternate form of the Anti-dragon shield, released along with the Dungeoneering skill. It has a completely different look than the traditional shield and can usually only be used within Daemonheim. It has a different alchemy value than the Anti-dragon shield, As well as two being obtainable from one monster.
The Dungeoneering anti-dragon shield has no negative mage/ranged attack bonus, as well as a slight mage defence bonus. But it otherwise has roughly the same melee defence bonuses as a novite (Tier 1) kiteshield (with the anti-dragon shield having even lower stab defence, marginally higher slash defence, and equal crush defence, when compared to a novite kiteshield). The Anti-dragon shield, with Its slight stab/slash/crush defence bonuses along with not having any negative magic attack bonus, would be a decent shield for a mage to wield. A melee fighter (provided one is not facing a dragon) would be better off with any Tier 2 (bathus) kiteshield or higher.
It is a common drop from many monsters and can be commonly found on the starting tables. Due to an update at the end of June 2010, smuggling this shield or any other item from Daemonheim has been fixed.
As of 19 August (along with the Occult floors update), shields smuggled from Daemonheim crumble to dust without prior notice upon attempting to wield them outside Daemonheim.
Combat Stats

| Class | Slot |
| --- | --- |
| Melee | |

Weapons
Main
Off
Damage
-
-
Accuracy
-
-
Type
-
-
Attributes
Armour rating

2

Life bonus

+14

Prayer bonus

0

Critical bonuses

0%

0%

0%

Compare item

A player wielding an anti-dragon shield within daemonheim

[view] • [talk]
Dropping monsters
Edit
| Monster | Combat level | Quantity | Rarity |
| --- | --- | --- | --- |
| Iron dragon (Daemonheim) | 84, 89, 98, 114, 138 | 1 | |
| Night spider | 59 | 1 | |
| Animated pickaxe | 7, 14, 25, 37, 45, 61, 75, 89, 103, 116 | 1 | |
| Mysterious shade | 1, 2, 4, 10, 17, 25, 37, 50, 67, 90, 111, 133 | 1 | |