Ancient chaps
Discuss

0
22,498pages
on this wiki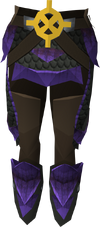 Ancient dragonhide chaps are a dragonhide armour released with the Elite Treasure Trails and New Rewards update on 4 August 2010. It can be obtained as a reward from a Level 4 Treasure Trail.
The player needs at least 60 Defence to wear blessed dragonhide armour. It has the same stats as a black dragonhide chaps except in damage absorption. These chaps cannot be made using the Crafting skill.
Combat Stats

| Class | Slot |
| --- | --- |
| Ranged | |

Weapons
Main
Off
Damage
-
-
Accuracy
-
-
Type
-
-
Attributes
Armour rating

249

Life bonus

+1080

Prayer bonus

0

Critical bonuses

0%

0%

0%

Compare item

A female player wearing ancient dragonhide chaps

A male player wearing ancient dragonhide chaps

[view] • [talk]
When a female character wears the Ancient dragonhide chaps, the Zarosian symbol near the waist is larger than that of a male character's Zarosian Symbol.
Trimmed leather armour set
Gold-trimmed leather armour set
Green d'hide trimmed set
Green d'hide gold-trimmed set
Blue d'hide trimmed set
Blue d'hide gold-trimmed set
Green d'hide blessed set
Blue d'hide blessed set

Saradomin body • Saradomin chaps • Saradomin vambraces • Saradomin coif

Red d'hide blessed set

Zamorak body • Zamorak chaps • Zamorak vambraces • Zamorak coif

Dyed silver d'hide blessed set

Armadyl body • Armadyl chaps • Armadyl vambraces • Armadyl coif

Dyed brown d'hide blessed set
Dyed purple d'hide blessed set

Ancient body • Ancient chaps • Ancient vambraces • Ancient coif

Third-age ranger set

Third-age range coif • Third-age range top • Third-age range legs • Third-age vambraces