Amulet of zealots
Discuss

12
27,584pages on
this wiki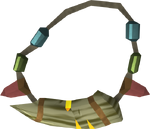 The Amulet of zealots is a Dungeoneering reward that, when worn, increases the boost of activated single-stat boosting prayers by 10%, excluding leech curses. It has the highest Prayer penalty of any item. The amulet requires a Prayer level of 48 and a Dungeoneering level of 48, and costs 40,000 Dungeoneering Tokens.
The increases to prayers are a flat increase to the base. As an example, the Overpowering Force prayer usually gives a 6% increase to Ranged damage. When used with the amulet of zealots, this rises to 16%. Because of this drastic increase, the amulet of zealots is often used for Dps.The amulet does not aid enemy single-stat drain from the Ancient curses.
Due to the amulet's high Prayer drain, prayer flashing is advised when using it.
The extra prayer bonuses acquired when using this amulet with normal single-stat boosting prayers, may prove to be more effective than ancient curses, especially in Player vs. Player situations. Many Pkers often wear this amulet in order to smite their opponent.
Combat Stats

A player wearing an amulet of zealots

Skill requirements
48 , 48
Class
Slot
None
Weapons
Main
Off
Damage
-
-
Accuracy
-
-
Style
-
Attributes
Armour
0
Life points
0
Prayer
-5
Style bonuses

0

0

0

[view] • [talk]
This item's original name was the Amulet of Hopelessness, as found in the Dungeoneering rewards guide and the level up message. However, on 22 November 2011 this was fixed and now correctly says amulet of zealots.

For a time after the Evolution of Combat, the amulet would work with multi-stat prayers and curses. This was patched on 3 July 2013.

This means that it is now possible to achieve stronger prayers in F2P (+16% boost) than the highest-levelled prayers: Turmoil, Anguish, and Torment (+10%).

Zealot is Greek for the words emulator, admirer and follower.
If you die in the wilderness with the Amulet of zealots, you can run back and pick it back up.