Amulet of zealots
Discuss

12
22,476pages
on this wiki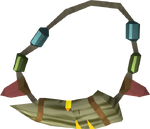 The Amulet of zealots is a Dungeoneering reward that, when worn, increases the boost of the single stat boosting prayers by 5%. It has the highest Prayer penalty of any item. The amulet requires a Prayer level of 48 and a Dungeoneering level of 48 and costs 40,000 Dungeoneering Tokens.
It has no effect on multiple stat-boosting prayers, such as Chivalry, Rigour, Piety, or Augury.
Unlike most untradeable items the Amulet of Zealots does not turn in to coins upon death in the wilderness. Instead you may run back and retrieve it. Whether or not this is a bug is unknown.
Due to its high Prayer Point draining rate, its highly suggested to prayer flash when using this amulet.
Combat Stats

| Class | Slot |
| --- | --- |
| None | |

Weapons
Main
Off
Damage
-
-
Accuracy
-
-
Type
-
-
Attributes
Armour rating

0

Life bonus

+0

Prayer bonus

-5

Critical bonuses

0%

0%

0%

Compare item

A player wearing an amulet of zealots

[view] • [talk]
This item's original name was the Amulet of Hopelessness, as found in the Dungeoneering rewards guide and the level up message. However, on 22 November 2011 this was fixed and now correctly says amulet of zealots.

Amulet of Hopelessness previously appeared on the level up screen

Contrary to popular belief, the Amulet of Zealot does work on curse prayers. This can only be used with Leech prayers and would instantly increase the initial 5% boost of any leech prayer to 10%. However, the drain rates on enemies stay the same.
Zealot is Greek for the words emulator, admirer and follower.
Chaotic equipment

RapierOff-hand• LongswordOff-hand• Maul • Claw Off-hand • Staff • Crossbow Off-hand• Kiteshield • Spike

Gravite equipment
Ranged
Magic

Arcane pulse necklace • Arcane blast necklace • Arcane stream necklace • Tome of frost • Nature staff • Law staff • Farseer kiteshield

Prayer

Twisted bird skull necklace • Split dragontooth necklace • Demon horn necklace • Amulet of zealots • Bonecrusher • Scroll of renewal Rapid Renewal

Miscellaneous

Scroll of life • Scroll of efficiency • Scroll of cleansing • Herbicide • Gem bag • Coal bag • Anti-poison totem • Ring of vigour • Spirit cape • Sneakerpeeper • Charming imp • Dungeoneering experience