This article is about the Prayer-boosting feature in Mort Myre Swamp. For the means by which to craft nature runes, see
Nature altar
.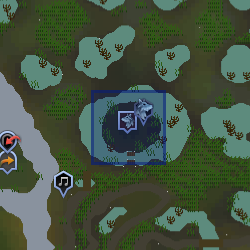 The Altar of nature is a special altar that members can pray at, not only to replenish but also to boost their Prayer points by 20. This is one of three altars in RuneScape that will boost Prayer points by twenty, the other two are located in the Edgeville Monastery and Seers' Village (while wearing the seer's headband 3).
This altar is located at the southern end of Mort Myre Swamp, through a door on a small island accessible only via a bridge from the south. To enter, right-click the tree and select 'Enter Grotto Tree'.
An empty druid pouch can be found in the chamber, on the floor next to the altar itself.
The altar of nature was renamed due to confusion with the nature altar, and is accessible only after completing the Nature Spirit quest.
Before the quest, the altar looks blackened before it was restored. Many players recharge their Prayer there while on the way to Barrows. Note that the "swamp decay" effect is neutralised in the altar.
In order to receive a silver sickle (b), you need to "Use" a silver sickle on the altar.
Nearby the altar a Summoning obelisk can be found, where you can convert items and shards into pouches using the Summoning skill.
Ad blocker interference detected!
Wikia is a free-to-use site that makes money from advertising. We have a modified experience for viewers using ad blockers

Wikia is not accessible if you've made further modifications. Remove the custom ad blocker rule(s) and the page will load as expected.