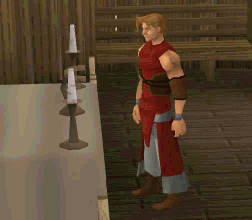 An altar is interactive scenery that allows a player to recharge their Prayer points. By clicking on it, the player will kneel by the altar and it will recharge their prayer points. To locate an altar, look for the altar icon (

) on the world map or minimap.
Altar locations
Edit
Free-to-play
Edit
The Tribute stone, east of the Falador lodestone
Inside the Lumbridge Church, south of the Lumbridge Castle.
Bandos's remains east of the Captured temple and north of Falador.
In Duel Arena lobby.
In white knights castle in the middle of Falador city. Second floor on the east side.
In Varrock, in the church in the north-east corner of the city
In the Chaos Temple at level 12 Wilderness, south-east of the Graveyard of Shadows
The Prayer Guild, upstairs in the Edgeville Monastery, just west of Edgeville. It can only be entered by players with a Prayer level of 31. Praying at the altar boosts the player's prayer points 20 above their regular amount.
Inside the Black Knight's Fortress.
Church west of Port Sarim.
Where the wine of Zamorak spawns.
Special altars
Edit
Reaching altars
Edit
These altars are reasonably accessible by "fast" transportation means, such as teleportations.