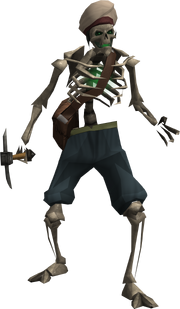 Ali the Shovel is a non-player character referred to in the pyramid journal found during the Missing My Mummy quest. According the journal, Ali the Shovel was part of a treasure-hunting team hired by famed merchant Ali Morrisane in Year 169 of the Fifth Age.
Ali the Shovel, along with others such as Ali the Egghead and Ali the Engineer, entered the Uzer Mastaba in the north-eastern Kharidian Desert. According to the journal's author, Ali the Shovel was a suspicious character who may have been taking supplies from his teammate's backpacks.
At some point Ali the Shovel was killed during the expedition, and according to the journal's last entry his corpse began to move due to the curse of Pharaoh Queen Senliten. The entire team was ultimately killed, and Ali the Shovel's body is likely amongst the skeleton looters encountered during the quest.
Ad blocker interference detected!
Wikia is a free-to-use site that makes money from advertising. We have a modified experience for viewers using ad blockers

Wikia is not accessible if you've made further modifications. Remove the custom ad blocker rule(s) and the page will load as expected.