Akrisae the Doomed
Discuss

3
22,529pages
on this wiki
Akrisae the Doomed
Release date
14 September 2011 (Update)
Members?
Yes
Combat level
115
XP per kill
1000 (and 330 experience)
Always drops
Nothing
Examine text
A vengeful spirit, corrupted by dark magic.

Combat stats
LP
Max hit
12,000
1700+
Attack
Defence
Ranged
Magic
1
70
1
70
Other
Immune to Poison?
Immune to Stun?
No
No, unless praying against the combat style of stun used.
Attack Speed

Speed 5 (Interval: 3.0 seconds)

Aggressive?
Poisonous?
Yes
No
Attack style
Weakness
Magic

Bolts

[view template]
Akrisae the Doomed
is the seventh known wight of
Sliske
, the other six being the
Barrows brothers
. Obviously, he is not one of the brothers himself, being several millennia younger, Akrisae's crypt is a joint crypt shared with
Verac the Defiled
in the north-west of the
Barrows
area, only accessible after completing the quest
Ritual of the Mahjarrat
. Both tombs are in separate rooms of the crypt. He is the wight of
Akrisae Kolluym
, who was turned by
Sliske
during Ritual of the Mahjarrat, jumping in the way of Sliske's spell to save the player. Akrisae attacks with
magic
using his
war mace
, and also uses
protection prayers
.
Akrisae's set effect, Akrisae's Doom, gives him the chance to drain the player's prayer in a similar manner to that of a player wearing an entire set of Guthan the Infested's equipment  . When a player not using prayer attacks him and the effect activates, he will say "Ahh, more prayers.". Akrisae attacks using magic with a maximum hit of 1700, and is very accurate, so Protect from Magic/Deflect Magic is advised. Akrisae only uses his magic attack while within melee range, so using a stunning ability such as Binding Shot or Impact is very effective in reducing damage. Akrisae also uses protection prayers in accordance to what the player is using. After 1500 damage is dealt he will swap prayer, requiring a player to use at least two combat styles in order to defeat him. Players can hit over the damage cap if they hit fast enough, such as shooting a bolt from a crossbow and then using a quick ability to deal high amounts of damage before he can switch prayers. 
Akrisae is weak to Bolts, therefore a strong ranged weapon such as a Royal Crossbow, or a pair of Dual Chaotic Crossbows are recommended, alongside another strong weapon such as a Chaotic Maul or a Chaotic Staff casting Fire Surge to counter his prayer switching. Abilities such as Incendiary shot, Meteor Strike, Overpower and Omnipower are useful to deal large amounts of damage before he switches prayers. If in combat with him long enough he will run out of prayer in a similar fashion to a player. With the Evolution of Combat update, players can switch to or from magic simply by equipping or un-equipping a staff or wand, which greatly helps when switching combat styles.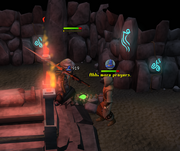 Players who have completed Ritual of the Mahjarrat cannot see players who have not completed the quest whilst in Verac's crypt. This is because the crypt with Verac and Akrisae and Verac's normal crypt are in fact two separate dungeons. However if a player fights Akrisae in the catacombs, other players can see him.
Akrisae is the only brother to say something else apart from "You dare disturb my rest!" or "You dare steal from us!". 
However, there seems to be a typo with Akrisae's chest quote, as he says "You dare steal from us?", while the other brothers say "You dare steal from us!"
Before the Evolution of Combat, Akrisae attacked with melee.
There is a glitch where if you kill Guthan first, there is a slight chance of Akriase's face appearing when you get prayer drained, even if you didn't kill Akrisae first or have not done Ritual of the Mahjarrat yet.
During the Ritual of the Mahjarrat, Akriase as a wight has a combat level of 200 in the cutscenes that involve him, although his human form is much more lower. Also, during the Barrows minigame, he only has a combat level of 115.
His armour is Hybrid armour, making it equally effective for all styles, and his mace is a melee weapon. Suprisingly, the mace is much weaker then the other brothers weapons. 
Akrisae attacks using magic, but still uses a melee animation. This is due to the Evolution of Combat and is an oversight by Jagex.

However, magic attacks and abilities can only be cast by a wand or staff after an update, it is strange how Akrisae can still use magic attacks with a melee-based weapon.
Ahrim the Blighted

Set • Hood • Top • Robe skirt • Staff • Book of magic • Wand

Dharok the Wretched
Guthan the Infested

Set • Helm • Platebody • Chainskirt • Warspear

Karil the Tainted

Set • Coif • Top • Skirt • Crossbow • Pistol crossbow (Offhand) • Bolt rack

Torag the Corrupted
Verac the Defiled

Set • Helm • Brassard • Plateskirt • Flail

Akrisae the Doomed

Set • Hood • Robe top • Robe skirt • War mace

Other

Culinaromancer's gloves 10 (barrows-themed gloves)