Airut are bipedal, boar-like creatures who follow the goddess Tuska. They typically live on Tuska's back, riding and controlling her with massive reins. They were named after an ancient warrior of the same name by the Naragi when Naragun was attacked by the Airut and Tuska. They drop the level 90 melee power gloves, razorback gauntlets, as well as pieces of the tuska mask and pages of Kaigi's journal. Airuts require 92 Slayer to be damaged.
Airut came to Gielinor via portals, signalling Tuska's upcoming arrival. Airut can be found just west of the Phoenix Lair in the Piscatoris Hunter area (a•k•q or Phoenix Lair Teleport) and in Kuradal's Dungeon.
Abilities
Edit
Airut use two combat styles, melee and ranged, the style used depending on which stance they are in. When meleeing, they stand on their hind legs and attack by punching. When ranging, they stand on all-fours and spit corrosive bile at the player. Airut prefer to exploit the weakness of the player and will switch between combat styles if prompted to do so (if the player changes armour or activates protection prayers). Airut's defence rises both over time and as their lifepoints lower.
In either style the Airut can initiate a brief berserk mode where they will deal inaccurate, but rapid and powerful damage to the player, continuing to use the same attack style as they were in at the time. This attack is signalled by the Airut beating its chest. It will use one arm for ranged and two arms for melee. This attack can be stopped by using the Rapid Fire or Flurry abilities anytime during the attack, depending on if you are using ranged or melee, respectively. It should be noted that to stop the attack the ability must hit; if no damage is dealt, the Airut will not be stunned and continue attacking. Take caution when using Flurry, as this is a multi-targeting attack. Alternatively, using a stun before the Airut begins this series of attacks will temporarily halt them, but will not prevent the attack from actually commencing once the stun is over. One can also use a root and step away from the frenzying Airut. This only works when the Airut is in its melee stance. Players must be careful when the Airut switch combat modes as the signal animation may not appear. If you start to receive rapid damage after a style change immediately use one of the abilities listed above to disable it.
When they are using their berserk mode and are successfully hit from one of the two abilities mentioned above, they will kneel and catch their breath. During this short time frame, the Airut will be stunned and all incoming damage on them will be doubled.
Airut can be safe-spotted using the rocks in the Piscatoris Hunter Area and often don't immediately switch from Melee to Ranged attack mode meaning the player can deliver a decent amount of damage (often about half of the Airut's lifepoints) before having to deal with damage from their Ranged stance.
100% drop
Edit
Weapons and Armour
Edit
Rare drop table
Edit
Universal drops
Edit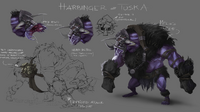 In Finnish, the word 'airut' means 'harbinger'.
Despite their examine text, they are not aggressive.
Airut did not have their own unique slayer icon. They shared the same slayer icon as the Scutarius. This was fixed.
Airut are the only non-magic using monsters to drop Sirenic scales.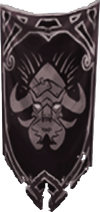 When asking Kuradal and/or Morvran for advice on these creatures, she/he will say that they are weak to stab despite them having no explicit weakness. A similar issue occurs with Kal'gerion demons.
Razorback gauntlets were originally dropped regardless of whether you were on a slayer assignment, but this was updated on 14 April 2014.
When receiving a drop from an Airut that would appear in the Adventurer's Log, such as Razorback Gauntlets, the description starts with 'After killing a Airut...' where Airut is incorrectly preceded by an 'a'.
Airuts are one of the only high level slayer monsters that do not drop clue scrolls.