Air Surge
Discuss

0
24,283pages
on this wiki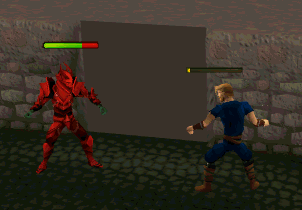 Air Surge, a pay-to-play magic spell, is the strongest air spell and tied with water, earth, and fire surge for strongest elemental spell in the standard spellbook. This spell requires five air runes to cast. Without boosts, the maximum damage of this spell is 768 + the Magic level of the caster. An armadyl battlestaff, or any staff aligned to Air gives the player unlimited casts.
Spell Costs
Runes
Cost
5
 

140

Staff
Cost
 

0




Combination runes
Cost
N/A
N/A
These spells were added to the spellbook in the 17 November 2009 update.
As revealed during Salt in the Wound, Kennith has the ability to cast Air Surge.
Prior to the Evolution of Combat changes, this spell was called Wind Surge and required 7 air runes, 1 death rune and 1 blood rune.
Since eoc, this spell can be cast for free using an air providing staff. This has made it the most popular combat spell for casual magic combat.
Elemental

Air

| | |
| --- | --- |
| Standard | Air Strike • Air Bolt • Air Blast • Slayer Dart • Divine Storm • Air Wave • Storm of Armadyl • Air Surge |
| Ancient | |
| Other | Polypore Strike |

Water

| | |
| --- | --- |
| Standard | Water Strike • Water Bolt • Water Blast • Water Wave • Water Surge |
| Ancient | |

Earth

| | |
| --- | --- |
| Standard | Earth Strike • Earth Bolt • Earth Blast • Earth Wave • Earth Surge |
| Ancient | |

Fire

| | |
| --- | --- |
| Standard | Fire Strike • Fire Bolt • Fire Blast • Fire Wave • Fire Surge |
| Ancient | |

Curses

Confuse • Weaken • Curse • Bind • Snare • Vulnerability • Enfeeble • Entangle • Stagger • Teleport Block

Support

Monster Examine • Cure Other • Cure Me • Cure Group • Stat Spy • Dream • Spiritualise Food • Stat Restore Pot Share • Boost Potion Share • Disruption Shield • Heal Other • Vengeance Other • Vengeance • Vengeance Group • Heal Group