Air talisman
Discuss

0
22,528pages
on this wiki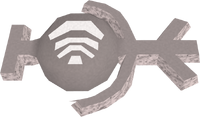 The Air talisman is an item that allows players to enter the Air altar. At the altar, the player can use the Runecrafting skill to turn Rune essence or Pure essence into Air runes.
Also at the air altar, an air talisman can be combined with a silver tiara to make an air tiara for 25 Runecrafting experience, by using the tiara on the altar while having an air talisman in inventory. This consumes the talisman, but the air tiara can be used the same as an air talisman and can be worn, opening an inventory slot to carry another essence.
Air talismans can be used to create combination runes. The talisman is consumed when used as the 'secondary' talisman to make these runes.
An air talisman is consumed in conjunction with a Water talisman as tertiary items in creating an Ice titan pouch for the Summoning skill. Before ice titans were released, air talismans were relatively cheap to purchase. They then became expensive, often costing thousands of coins. They became cheap again following the release of the reintroduction of free trade.
Air talismans can be obtained as drops from various monsters. The lowest levelled monster to drop them are level 2 Goblins, but they are not a frequent drop. The level 13 Air Wizard located south of Falador occasionally drops air talismans. Level 86 Abyssal leeches often drop talismans, including air talismans, but the leeches are in members' areas and the areas are dangerous for lower-levelled players.
The player receives an air talisman at the end of the Rune Mysteries quest. (Before an update, the player received one earlier in the quest, but this was changed to a Talisman, which it looks like an air talisman but cannot be used as one.
Dropping monsters
Edit
Goblins.
Air Wizards
Abyssal Leeches
Combining the Air talisman
Edit
On the day the Falador Tasks were released, Air talismans would not buy easily in the Grand Exchange and players had to wait for one to buy.
Air talismans were required as an easy Falador Task to make an Air tiara. This has since been changed to making a Mind tiara.
Before an update, during the Rune Mysteries quest players could do the drop trick to receive multiple air talismans from Duke Horacio. This could only be done if the player had started the quest and had not finished the part where the player showed the air talisman to Wizard Sedridor. This led to Jagex changing the air talisman in the quest to a Talisman, which has no use other than in the quest.
Runecrafting altars

Air • Mind • Water • Earth • Fire • Body • Cosmic • Chaos • Astral • Nature • Law • Death • Blood • Ourania • Daemonheim

Talismans

Air • Mind • Water • Earth • Fire • Body • Cosmic • Chaos • Nature • Law • Death • Blood • (Soul) • Elemental • Omni

Tiaras

Air • Mind • Water • Earth • Fire • Body • Cosmic • Chaos • Nature • Law • Death • Blood • (Soul) • Omni • Enchanted water

Staves

Air • Mind • Water • Earth • Fire • Body • Cosmic • Chaos • Nature • Law • Death • Blood • Omni • Basic

Pouches

Small pouch • Medium pouch • Large pouch • Giant pouch • Massive pouch

Runecrafting Guild

| | |
| --- | --- |
| Runecrafter robes | Runecrafter hat • Runecrafter robe • Runecrafter skirt • Runecrafter gloves |
| Master runecrafter robes | Master runecrafter hat • Master runecrafter body • Master runecrafter skirt • Master runecrafter boots |
| Runecrafting teleport tablets | Air altar teleport • Mind altar teleport • Water altar teleport • Earth altar teleport • Fire altar teleport • Body altar teleport • Cosmic altar teleport • Chaos altar teleport • Astral altar teleport • Nature altar teleport • Law altar teleport • Death altar teleport • Blood altar teleport • Runecrafting guild teleport |
| Other | Attractor wand • Repeller wand • Barrier generator • Runecrafting guild tokens |

Runespan

| | |
| --- | --- |
| Wicked robes | Wicked hood • Wicked robe top • Wicked robe bottom • Wicked cape |
| Runic staves | |

Other

Magic Imbue