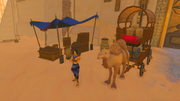 Aiding the Exile was a time limited event, released on 19 June 2017 and ended on 2 July 2017. In this event the player gathers Menaphite coins for the shady lurker found north of the main gate of Menaphos.
Each time the player logs in during the event, they will be greeted with the following announcement:
Magical rewards are on offer in the exchange for your help. Head to the gates of Menaphos now!

An exiled citizen of Menaphos needs your help! Head to the gates of Menaphos now!
Event noticeboards and the Events interface can be used to teleport directly to the shady lurker.
During the event, training skills or combat within Menaphos and the Sophanem Slayer Dungeon offer bonuses to the amount of Menaphite coins. There is a 20% bonus increase when training Mining, Thieving, Fishing or Woodcutting. However players cannot earn Menaphite coins from completing Daily Challenges, as these could not be handed in within the city at that time. With the update that removed the event, a challenge mistress was added to the city.
The player receives a reward for each of the following milestones. The player can either hand in coins or convert 250 coins into an event mystery box or 500 coins into a big event mystery box. Converted coins will not count towards the milestones.
Ad blocker interference detected!
Wikia is a free-to-use site that makes money from advertising. We have a modified experience for viewers using ad blockers

Wikia is not accessible if you've made further modifications. Remove the custom ad blocker rule(s) and the page will load as expected.