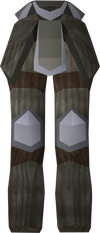 Agile legs are a piece of weight-reducing clothing. They are earned by completing 250 laps of the Advanced Gnome Stronghold agility course, you can fail a lap without it resetting your current progress, but the lap you failed will not count towards your lap progress of the advanced. When worn, they reduce the player's weight by 10 kg.
They require 85 Agility, 80 with a summer pie, 81 with abyssal lurker's scroll ability, or 82 with an agility potion to be able to earn this item, not to wear it. The requirements to equip them are 35 Defence and 35 Constitution.
When one has completed 250 laps without falling (The 250 laps do not need to be consecutive), they will get the following message in their chatbox: "You've completed 250 perfect laps! Speak to a gnome trainer for your reward." Progress to 250 laps can be checked by talking about rewards with a Gnome Trainer.
If lost they can be re-obtained by speaking to the Gnome Trainer. It is free to re-obtain the legs, and additional laps will not need to be completed to do so.
It takes roughly around 145-150 summer pies to get the legs from 80 agility. In the process the player will most probably gain 81 agility. At 80 agility it is most of the time 1 bite per lap, at 81 agility it is around 1 bite per 3 laps. Failure rate is around 33%. However with extreme luck, and gaining a failure rate of just 6.9% or lower a player can still gain the legs with only 80 agility.
If you are using summer pies to boost your agility level, it is highly advised to use the Surefooted aura from the Members Loyalty Programme. This aura will prevent any failure on the agility course. A player could effectively spend 20 minutes at the course and simply log out, then come back 2 hours later and resume training with perfect laps to get the agile set.
Combat Stats

| Class | Slot |
| --- | --- |
| Melee | |

Weapons
Main
Off
Damage
-
-
Accuracy
-
-
Type
-
-
Attributes
Armour rating

117

Life bonus

+630

Prayer bonus

0

Critical bonuses

0%

0%

0%

Compare item

A male player wearing agile legs

A female player wearing agile legs

[view] • [talk]
The Agile legs, along with the Agile top, Torva, Pernix, Virtus, Tetsu, Death lotus, Sea singer's, and Void Knight equipment, are the only non-skillcape items in the game to require a certain Constitution level to be able to use.
On the release date of the agile top and agile legs, penance gloves were also changed from gold to grey to match the colour of the agile set.
For female players the legs are actually a skirt.
If you place Agile legs in a Dragon keepsake key, you will effectively lose the item, unable to reclaim another pair of legs. Since the item is turned into a cosmetic override, you will also lose the -10kg weight reduction effect. - Due to a recent update this is no longer true, you are able to reclaim the Agile legs when you have used a Dragon keepsake key on them. The Agile legs you stored, will however be destroyed once reclaimed.
Head

Bronze athlete's hat-0.4kg • Silver athlete's hat-0.9kg • Gold athlete's hat-1.3kg

Chest

Bronze athlete's shirt-0.4kg • Silver athlete's shirt-0.9kg • Gold athlete's shirt-1.3kg • Wicked robe top-10kg • Agile top-12kg

Legs

Bronze athlete's legs-0.4kg • Silver athlete's legs-0.9kg • Gold athlete's legs-1.3kg • Wicked legs-8kg • Agile legs-10kg

Cape

Spotted cape-2.2kg • Spottier cape-4.5kg • Wicked cape-6kg

Feet

Bronze athlete's shoes-0.4kg • Silver athlete's shoes-0.9kg • Gold athlete's shoes-1.3kg • Boots of lightness-4.5kg

Hands

Bronze athlete's gloves-0.4kg • Silver athlete's gloves-0.9kg • Gold athlete's gloves-1.3kg • Penance gloves-7kg