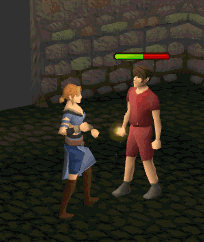 Aegis is a tier-4 aura released in the third batch of Members Loyalty Programme rewards. It is the first Tier 4 aura, and costs 84,000 Membership Loyalty Points. It is a shield that can block up to 10% damage, based on players' Defence levels. This functions in the same way as armour's damage-soaking stat, however there is no minimum amount of damage needed for this to take effect. The absorption rate is also consistent with the player's level. For example, at 99 Defence, if the player incurs 50 damage, he or she is only hit for 45, and 5 is shown as absorbed. The animation, however, only occasionally activates.
The aura remains activated for 30 minutes or until it has soaked up a certain amount of damage (1000 damage as of 26 January 2013), and has a recharge time of 5 hours. When the aura has absorbed the maximum amount of damage, the message displayed in the chatbox is "Your aegis shield has absorbed all the damage it is able to absorb, and has dissipated."
Aegis was not updated for the Evolution of Combat. The large amount of damage taken from every attack would disable Aegis very quickly. However, as of 13 May 2013, Aegis effects have been boosted. It is currently unknown how much damage it can absorb.
Combat Stats

| Class | Slot |
| --- | --- |
| None | |

Weapons
Main
Off
Damage
-
-
Accuracy
-
-
Type
-
-
Attributes
Armour rating

0

Life bonus

+0

Prayer bonus

0

Critical bonuses

0%

0%

0%

Compare item

[view] • [talk]
Aegis is a reference to the shield created by Hephaestus, and worn by Zeus and daughter Athena in Greek Mythology.
Aegis also means protection or support.
Aegis currently has no icon in the Adventurers' log; instead, it shows "aegis" in a strange bold font.
Combat auras

Tier 1

Runic accuracy • Sharpshooter • Invigorate • Reverence • Poison purge • Knock-out • Friend in need

Tier 2

Runic accuracy • Sharpshooter • Invigorate • Reverence • Poison purge • Inspiration • Penance • Vampyrism • Equilibrium

Tier 3

Runic accuracy • Sharpshooter • Invigorate • Reverence • Poison purge • Knock-out • Ancestor spirits • Berserker • Dark magic • Regeneration

Tier 4

Runic accuracy • Sharpshooter • Invigorate • Reverence • Poison purge • Aegis
Skilling auras

Tier 1

Call of the sea • Five-finger discount • Greenfingers • Lumberjack • Quarrymaster • Tracker • Surefooted

Tier 2

Call of the sea • Five-finger discount • Greenfingers • Lumberjack• Quarrymaster • Tracker • Surefooted • Resourceful • Jack of trades

Tier 3

Call of the sea • Five-finger discount • Greenfingers • Lumberjack • Quarrymaster • Tracker • Wisdom

Tier 4

Call of the sea • Five-finger discount • Greenfingers • Lumberjack • Quarrymaster • Tracker
Wing auras

Tier 1
Tier 2
Tier 3
Tier 4
Cosmetic auras

Gaze

Abyssal gaze • Blazing gaze • Divine gaze • Infernal gaze • Mystical gaze • Nocturnal gaze • Serene gaze • Vernal gaze

Other