Adventurer's Log
Discuss

21
22,486pages
on this wiki

The Adventurer's Log is a members-only feature of the RuneScape website. It contains many functions that a player might find useful, including recent activity, quests recently completed, skills recently trained, and even notable drops recently obtained. Achievements such as a player's 500th song being unlocked and comparisons of a player's stats are both features which can be found in an Adventurer's Log.
To access the Adventurer's Log, go to the Runescape main page, select the Community tab and click on Adventurer's Log. Any member player's log can be access by typing in the player's name if their privacy setting is 'Public'; if set to 'Friends Only', then the friend must log in. If set to 'Private', the player must be logged in to access their own log.
Pre release
Edit
The Adventurer's log was first hinted at during a Q&A between players and Jagex staff posted on the forums.
"
37) Robeddarknes asks:

Hi I was wondering when you were planning on releasing the ability for us to look at our character's statistics such as number of x-monster killed and x-number of hours played and what date our accounts were created, as this has always interested me and I believe I read you were planning to release it.

[Mod MMG] Yes, we currently have a project underway to provide players with a lot more information about their avatar progress and status in game.

"
 

— Robeddarknes and Mod MMG

[1]
On the 26 October 2009, an article appeared in the Knowledge Base called "Adventurer's Log", which was listed under "Customer Support & Other". It was later removed from the "Community" Tab, but it could still be accessed by the manipulation of a link. All profiles of Jagex Moderators were already set to private. The page could still be seen by a few players that had the URL because of players posting the link in the RuneScape Forums, but all links were shortly removed by Jagex Moderators. During several periods of the day it was being tested, the web page still had existed but retained no coding.
Mod Kat commented on the forums on the same day to say that Jagex had quietly released it to make sure that it was working properly, and then they subsequently removed access to it after they found out it was functioning properly.
"
I can't comment much on the Adventurer's Log at the moment, but I can confirm that it is not possible to see anyone else's Friends List. As some of you have suspected, the website feature was launched quietly to make sure it was running properly. I can't give you an estimate on when it will be relaunched, but rest assured we want to make sure it's as useful as possible for all of you.
"
 
Beta version
Edit
On 27 October 2009, Mod Seb had confirmed on the RuneScape Forums that the Adventurer's Log was currently in beta[3].
On 28 October 2009, the Adventurer's Log stopped working and instead gave the message: This account either does not exist or has never logged in to RuneScape. Please check the account name and try again. whenever a player's username was searched. This glitch was fixed a few hours later.
Official release
Edit
Officially, the feature was released on 18 November 2009,[4] but the feature is only for members as of now[5].
"Friends' Recent Events"
Edit
The list of recent events covers 10 of your friends.

Only 10 friends events are shown in the window. As of 14 November 2009, this discrepancy has as yet to be corrected in the Manual.

Friends that are ranked highest in your Friends Chat are placed at the top of the "Friends' Recent Events" list.
Those who change their own individual setting to "Private" will not have their achievements noted on any log (see the Settings section below.)
To "bump folks down the list," one may remove friends they would like on the log from their friends list, and then re-add them, thus bumping down the pile players whom the player is not so interested in. One may also re-rank them lower in Friends Chat.
If players do not have many folks in their Friends Chat of high rank, then the list will be composed of their 10 highest ranked friends, and then of their most recently added friends.
If the server is unable to find any friends' recent events (typically because of a server error rather than not having friends with events), the log reads "I don't have any recent friend events; perhaps I should do more adventuring with them."
Milestones
Edit
There are different kinds of milestones that will appear in both "My Recent Events" and in "Friends' Recent Events":
Quest complete: <quest>
<n> Quest points obtained (every 10 quest points)
Levelled up <skill> (whenever a skill is levelled)
<n> total levels gained (every 100 levels)
Every 2,000,000 experience trained after 99 (starting at 14,000,000 experience)
Levelled all skills over <n> (based on the level of the lowest skill)
I killed <player> (obsolete as of 1 February 2011)
I killed <monster> (Only for certain significant monsters (see below))
Item found: <item> (Only for certain significant items)
<n> songs unlocked (every 50 songs)
Defeat a Champion in Champions' Challenge
Defeat a boss in Daemonheim
Find a piece of journal in Daemonheim
Buying certain Dungeoneering rewards (prayers and scrolls)
Completed a new floor for the first time in Daemonheim
Maximum Total level gained
Completed a holiday event
Obtain a court summons
Complete a court case
Get Most Kills or most flag captures in a game of Castle Wars
Completing 500/1000/5000 Castle Wars games
Completing a Treasure Trail
I caught <n> gleaelg charm sprites (Starting with 100)
Unlocked the first spell/all spells on the Livid Farm
Unlocked the Master Student ability
Unlocked the Golden/Royale Cannon ability
Brought 25 chimp ices to king Awowogei
Improved my duellist's cap
Improved my duellist's cap to its highest level
Improved my wildstalker helmet
Improved my wildstalker helmet to its highest level
Hunted the Thalassus 10 times
Bought a TzRek-Jad
Achieving max free-to-play total level (1614)
Unlocking achievements in the Dominion Tower
Killing the difficult version of Sunfreet
Completing the Fight Kiln minigame
Receiving hybrid robes piece
Completing shark tooth necklace
Buying max cape and completionist cape
Becoming Supreme Champion in The Crucible
Receiving Master runecrafter robes
Completing first and last Statue of dahmaroc
Not all monsters killed by a player are shown in their adventurer's log. Some of the monsters shown are listed below.
Item drops from high levelled monsters such as God Wars dungeon bosses, Corporeal Beast, or from slayer monsters such as abyssal demons, and dark beasts also get displayed within the Adventurer's Log. These can include:
Monster Drops
Edit
Treasure trails
Edit
This section is a stub. Please help expand it.

Squeal of Fortune
Edit
Individual players may change who can see their log by clicking on the "Settings" button. The available options are:
Public: Everyone can see your log.
Friends: Only your friends can see your log.
Private: Only you can see your log.
Players who have been banned, or who are not currently members, will not show on any log. The log initially suffered from performance issues, usually resulting in an error message or very slow page loads. As of August 2010 the performance issues have been solved and the log is responsive.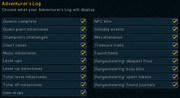 Quest Complete
Edit
A list of what the Adventurer's Log says when you complete a quest can be found at Adventurer's Log/Quest complete
If someone has not had any recent events, their recent events section will say "I don't have any recent events yet. I need to do more adventuring."
If a player achieves something as a non-member, that achievement will not appear in their adventurer's log if they subscribe.
Previously, when levelling up, the message "I've reached level __ in the ______ skill." appeared in your Adventurer's Log, but since 1 February 2010, it gives the message "I levelled my ______ skill, I am now level __. ".
After a rollback, (most notably the one that occurred on 14 April 2010) you may find your Adventurer's Log to be extremely out of order. Your last achievement may display a level earned long ago, or an achievement from someone else's Adventurer's Log.
There was a glitch where all players' Adventurer's Logs were switched with another random player. This has now been fixed.
The icon on the agility skill shows the form of the original logo but isn't white, it's the same colour as the one currently on the new style of the logo. Hiscores is also the same.
As of 1 February 2011, the Adventurer's Log no longer states who you've killed in PvP.
With the update on 4 April 2011 there was a glitch in the adventurer's log. It said 'null' to all items, monsters, quest descriptions, Daemonheim events, and completion of any difficulty treasure trails. This glitch was fixed with the Clan update on 12 April 2011.
However, As of 10 January 2012 , the Adventuer's Log once again shows a players' play time.
An update on 20 March 2012 caused the adventurers log to wrongly display quest names, instead of showing the actual quest completed it just displayed the quest, Cabin Fever, but when your cursor moves over it, it still displays the proper info for the actual completed quest.
Even if players have completed Druidic Ritual and/or Wolf Whistle, both of the quests will appear in the Available quests, making the graphic be unable to appear full in green colour for players who have completed all the quests. Players need to have completed the updated versions to make them go away.
The notifications must run on a template because on rare drop notifications it may not use proper grammar, for example, "After killing a Iron dragon, it dropped an ancient effigy." Although it did use an for ancient effigy so it is unknown if this is a glitch.
References
Edit